Manchester United
Van der Sar tells De Gea what he needs to do to be the 'proper No.1 in the world'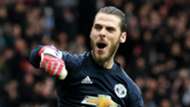 Edwin van der Sar has advised David de Gea where he needs improve to become "the proper number one in the world".
Many Manchester United fans will argue the goalkeeper, who has won a record-breaking four Player of the Year awards with the Red Devils, already sits at the top of the global goalkeeper standings.
The 27-year-old has been a model of consistency in recent years, with his shot-stopping ability having helped United to many precious points during a testing period on and off the field.
He is considered to be a prized asset within Jose Mourinho's ranks but Van der Sar suggests he needs to shout at his defenders more and come off of his line when the chance presents itself to get even better.
The United legend told MUTV: "I couldn't imagine how well he has done.
"He was a very young goalkeeper when he came, replacing me, but he and also the coaches have put in a lot of work to make him the goalkeeper he is now. Eric Steele first and, after, Frans Hoek with Louis van Gaal. He is performing really well.
"The next step is to be more demanding from his defenders and also to play a little bit more out of his goal but [in terms of] his reaction saves – nobody makes better saves than David De Gea.
"Yes, these are areas he can work on but he's 28 [later this year] and I was 34 when I came to United. So he still has a lot of time to improve and the level he has now is an immense high.
"Maybe he can find another thing to add to his game and the goalkeeping coaches find another thing to work on to set himself as the proper number one in the world."
The 2017-18 campaign saw De Gea move ahead of Cristiano Ronaldo on United's roll of honour when it comes to Player of the Year prizes.
He also collected the Premier League Golden Glove award for the first time in his career after keeping 18 clean sheets.
Spain will be hoping that he can transfer that fine form onto the international stage this summer, with a side fancied to go well at World Cup 2018 set to open their quest for global glory against Portugal on Friday.