Concacaf Champions League
D.C. United's Bobby Boswell: CONCACAF Champions League 'traditionally hurts MLS teams'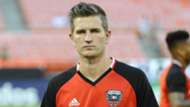 WASHINGTON — Perhaps no MLS player knows the CONCACAF Champions League better than Bobby Boswell. Between stints with the Houston Dynamo and D.C. United, the 33-year-old has taken part in the tournament each of the past five seasons.
But CCL isn't on the docket for the United captain in 2017 after the club failed to qualify for the competition. While Boswell acknowledged the allure of leading an MLS team to the continental title — which has been claimed by Liga MX sides in all eight editions thus far — he also says there's a silver lining to missing out on the tournament.
CONCACAF Champions League announces format change
"Don't get me wrong — I think people want to be in it," Boswell said Tuesday as United gathered for preseason. "It's not like we're thrilled we're not in CONCACAF. But it just allows us to focus more on our goal. Our goal is to lift trophies — mainly MLS Cup. But if you want to win a Supporters' Shield or Open Cup, you need to have as much focus as you can from the get-go. One less thing to worry about maybe helps your vision of the end game."
United dealt with an abbreviated preseason the past two years, playing CCL quarterfinal matches in late February and early March before the start of the MLS campaign. After falling to Costa Rican club Alajuelense in a 6-4 aggregate defeat in 2015, United dropped a 3-1 aggregate loss to Mexican side Queretaro last year.
It's a challenge MLS clubs face again this season, with the New York Red Bulls facing the Vancouver Whitecaps and FC Dallas meeting Panamanian side Arabe Unido in two-legged quarterfinals before the MLS season starts March 3.
"I think CONCACAF [Champions League] traditionally hurts MLS teams," Boswell said. "I know it's exciting and it's glamorous to have that idea to be the first team to go out and win it, but it doesn't really set us up for success, especially playing so early — and usually you're playing a Mexican side that's in form at that point.
"You spend most of your preseason preparing for a two-game series against a team that's nothing like any MLS team you're ever going to face, and there's a bit of a hangover when you come out of that."
CONCACAF announced sweeping changes to the CCL format Monday that will go into effect later this year. The group stage — previously held in the fall — has been replaced by a play-in tournament, with MLS clubs earning direct passage to a 16-team knockout stage in the spring. Although the format eases the scheduling burden for MLS teams, the timing of the knockout matches — from February to May — still leaves the league at a disadvantage against Mexican and Central American clubs in midseason form.
Thus far, only two MLS sides have advanced to the tournament final — Real Salt Lake, which fell to Monterrey in 2011, and the Montreal Impact, who lost to Club America in 2015.
"If you look at the way MLS teams perform midseason ... you're just in form, you're in a better spot, as opposed to coming right out of a break and all of a sudden you're expected to go out and beat Club America," Boswell said. "[Liga MX clubs] have almost more incentive to beat us than they do to beat their own sides. The finals are different when they're in it with each other than when they're playing MLS opposition.
"They celebrated that game in Montreal like they had won the World Cup, and for good reason — they take a lot of pride in beating our league. We would do the same, and we will do the same, when it does happen — and I think it will happen sooner than later."