Ghana
Daara wants former Ghana sports minister Vanderpuye arrested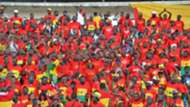 Ghana FA communications director Ibrahim Sannie Daara insists that police must invite former youth and sports minister Nii Lante Vanderpuye for questioning following bribery allegations levelled against the football body.
The member of parliament of Odododiodio constituency alleged in an interview with Atinka TV on Thursday that the GFA top hierarchy approached him with bribery attempts while some Black Stars players advised him to pay bribes to referees ahead of games to help the country record victories.  
Saanie, who had several banters with Vanderpuye during his tenure, wants the former minister to mention names of those who tried to corrupt him.
"Nii Lante Vanderpuye was in power and had all the state apparatus to arrest and prosecute anybody committing a crime yet he failed to do it because he knows his claims are false," Daara told Kessben FM.
"As a minister, if he knew of a crime like bribery and corruption and did not take any action of reporting the person or people concerned to the police then he has also committed a crime and must be called by the security services to answer for it.
"I am daring him to name the person or people who brought envelopes to him. If he can't name anyone then it shows clearly that he is lying - his stock-in-trade.
"The fact is that Nii Lante knows that what he is saying is false and he will say it just to deceive the public and demonise the GFA. We won't take it sitting down anymore.
"There are many false things he said about Ghana FA and it is all because of his deep hatred for the association president Kwesi Nyantakyi. His attempts started many years ago."
He added: "The new sports minister [Isaac Asiamah] is working and getting things done like the revival of the national sports festival and so Vanderpuye wants to divert attention from these successes we aim at achieving.
"The local Black Stars are playing this weekend and Black Stars later this month so Vanderpuye wants to take our eyes off the ball and we won't allow him.
"Instead of formulating policies to develop sports in Ghana, he said his policies we're 'kakai' and it is no surprise that he failed miserably."