Chelsea
Conte: Batshuayi must prove he's better than Hazard and Morata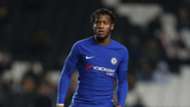 Michy Batshuayi has been challenged to be better than Alvaro Morata and Eden Hazard by Chelsea boss Antonio Conte as he prepares to start against Bournemouth in the Carabao Cup.
The 24-year-old forward was the back-up option to Diego Costa last season and he remains behind the newly arrived Morata in the Stamford Bridge striker pecking order.
A back injury has caused Morata to not start the last two games but Conte has chosen to put Hazard up front instead of his compatriot. Conte thinks that Batshuayi must take his chance in the cups to become his number one option.
"He has to show me that he's better than Morata, or than Hazard. It's very simple," Conte said at Cobham Training Ground. "But don't forget that Michy this season is playing more than last season.
"Last season he didn't play. He didn't play and I think this season, if you consider his injury for a month, he had his chance. I think, when you are a striker in this crazy market, your valuation is very high only because you are a striker.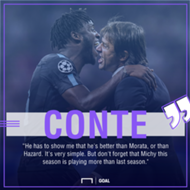 "And then, Michy is a young player. He has to work very hard to improve himself. But he's doing this. I'm happy with his behaviour and his commitment. But I have to make the best decision for the team.
"Otherwise, when we lose, you say to me: 'You are in trouble because you lost', not because I took this decision or that one. I try and make the best decision. Sometimes I can make the best decision. Sometimes I make a wrong decision. This is part of my job.
"But there is only one thing that every single player has to consider: my honesty. When I decide about a player, the last part of the body I see is his head."
Batshuayi has played 588 minutes of football for Chelsea this season and has scored seven goals, averaging a goal every 84 minutes. His strike record hasn't been enough to earn him starts but he has had a spell out with a foot injury that he sustained on international duty. 
Despite having more starts this term he has yet to complete 90 minutes in the league. Hazard, Willian and Pedro have started the last two games, with the trio having produced some exciting football against Huddersfield Town and Southampton.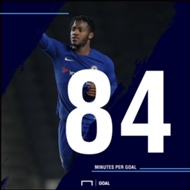 And Conte thinks that this combination has proved its worth since he has been at the club. 
"Michy stopped for maybe two weeks, 18 days, and then he needed to work," Conte added. "To work and to find the best physical condition. Now I think it's right for him to start the game against Bournemouth in the Carabao Cup. But I repeat: in every game, I have to make the best decision for the team.
"Against Huddersfield we won 3-1 and I think I made the best decision to start with Hazard, Pedro and Willian. It was the same against Southampton. Every game I've played Hazard, Pedro and Willian together, they've won. Last season and this season."
Conte will likely start with Kenedy and 17-year-old Ethan Ampadu on Wednesday - as he aims to rest players with a trip to Everton on the horizon.
Dujon Sterling and Callum Hudson-Odoi could also be involved but more likely from the bench as they have been training with the first team. Conte thinks that these appearances won't be presents for the youngsters, who will have earned their spot from work done in the youth teams.
"I think that, before, we have to win. We have to win," he continued. "Don't forget that there is a quarter-final against a good team, because Bournemouth are a good team and we have great respect for Bournemouth.
"At the same time, this competition is very important because we can give, in this competition, the chance and opportunity to the young players to show they are growing in the training sessions and the work this season.
"But at the same time we want to go into the next round because it's an important game. It's the same for Bournemouth. It's important to go into the next round and then we'd start to think about what is the best way for the semi-final.
"We have to go step-by-step, game-by-game. Tomorrow I have the right expectations for the players who are not usually playing with regularity, but deserve to have this chance. If they don't deserve it, I don't like to give presents. Stupid presents. If you deserve it, you'll have your chance. If you don't deserve it, you won't."
Chelsea's match will kick off at 19:45 GMT at Stamford Bridge on Wednesday evening as they aim to navigate the quarter-final in the Carabao Cup.