Africa Women Cup of Nations
'Congratulations to the Super Falcons' – Twitter celebrates Nigeria's ninth Awcon title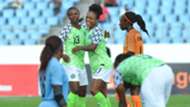 Social media has been awash with praise for Nigeria following their record ninth Africa Women's Cup of Nations title at the Accra Sports Stadium on Saturday.
After holding South Africa to a goalless draw at the end of extra time, the Super Falcons maintained their dominance in African football with a 4-3 win in the penalty shoot-out.
Football enthusiasts were delighted by Nigeria's triumph in Ghana and have taken to Twitter to react.
9th titles for the Super Falcons. Dominant.

1998 ✅
2000 ✅
2002 ✅
2004 ✅
2006 ✅
2010 ✅
2014 ✅
2016 ✅
2018 ✅

Well done Nigeria. African Queens. 🇳🇬 #AWCON2018Final #Team9jaStrong

— Bolarinwa Olajide (@iambolar) December 1, 2018
Nigeria retain #AWCON Title Congratulations to the Super Falcons pic.twitter.com/lNPnfEaYRL

— Lolade Adewuyi (@Jololade) December 1, 2018
Congratulations to the Super Falcons. Once again, Champions of Africa!

— Atiku Abubakar (@atiku) December 1, 2018
Super Falcons are the African Champions yet again for the ninth time. They just beat @Banyana_Banyana of South Africa on penalties in Ghana

— Olatunde Liadi (@OlatundeLiadi) December 1, 2018
That's a wrap!

FT: Nigeria 0-0 South Africa [4-3 AET]

Congratulations @NGSuper_Falcons for winning their ninth AWCON title! pic.twitter.com/QDzqwNFdZT

— Goal Nigeria (@GoalcomNigeria) December 1, 2018
Congratulations @NGSuper_Falcons Champion Of Africa 💪🙏💃🇳🇬 #alwaythebest pic.twitter.com/iILjI7tbas

— AhmedMusa718 (@Ahmedmusa718) December 1, 2018
WE RULE THE CONTINENT! WE ARE CHAMPIONS FOR THE 9TH TIME! WE ARE THE SUPER FALCONS! #SoarSuperFalcons #Team9jaStrong #TotalAWCON18 #AfricanChampions pic.twitter.com/AjvACuwdI8

— NGSuper_Falcons (@NGSuper_Falcons) December 1, 2018
I don't understand this nonsense about Falcons not deserving to win. It is competitive sport & there are CLEAR parameters to decide winners. Meet them & you deserve to win. It is sports, not art. Your feelings are not as important as the RESULT. FALCONS ADE DESERVED WINNERS!

— Babanla (@biolakazeem) December 1, 2018