African Nations Championship
Cobbinah credits teammate Frimpong after match winner against Mali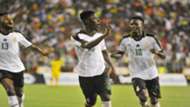 Ghana midfielder Winful Cobbinah has showered praise on his teammate Amos Frimpong after the Black Stars' 1-0 victory over Mali in the second Group A game of the 2017 Wafu Cup in Cape Coast on Saturday.
After a frustrating 70 minutes, Cobbinah came out of his shadows and produced a masterpiece of an effort to carry the day for Ghana. The Hearts of Oak poster boy latched on to a pass from Gideon Waja before making one step forward to send in a thunderbolt from 25 yards into the top right corner beyond the reach of Mali goalkeeper.
"First of all, I'd like to say thank you very much [to the supporters]. The team played very well. As a host nation, we have to do everything possible to win the tournament," Cobbinah said.
"In the second half, we did well and scored and for the goal, I will say my number two [Amos Frimpong] did very well [because] he ran very well for the opponent's players to just follow him and so what I had to do is to position myself very well and shoot the ball to the corner," he added.
Cobbinah's performance won him the man of the match accolade.
Ghana have qualified to the semi-finals of the competition and will play Nigeria in the last game of the group on Monday.
According to reports in the local media, the game will be moved from Cape Coast to Nduom Sports Complex in Elmina.