A-League
City skipper wants Victory final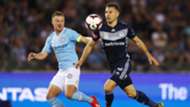 While they could still finish the season in fifth, Melbourne City skipper Scott Jamieson admits finishing sixth and ensuring a week one finals' clash with Melbourne Victory is tantalising.  
Should City beat Central Coast Mariners on Friday and Wellington Phoenix lose by a decent margin to Perth Glory, Jamieson's side could move up to fifth on the ladder. 
That would see City play Adelaide United in an elimination final rather than Victory, a prospect Jamieson isn't overly keen on. 
"If I'm really honest? I want us to win well this weekend, but I want us to play Victory," Jamieson said.
"I don't know what people behind the scenes will say about this but I want to play Victory. The team wants to play Victory.
"Nothing against other teams but we want to go against them, knock them off and then go onto the next game."
The Melbourne rivals have played three times already this season with City claiming one win and two draws from those encounters.
That form leaving Jamieson fairly confident City would be capable of defeating Victory in the finals. 
"I believe that they're a team that brings out the best in us," he said.
"I think we match up really well against them.
"I think the best way to answer the critics is to take on the previous champions. Take them on and do really well and go from there.
"They're the champions, they're our biggest rivals, it's something for our fans to get excited about so that's what I want."
Victory did host City in a semi-final in the 2014/15 season with Kevin Muscat's side triumphing 3-0 that day on their way to the championship.