Premier League
Chicharito nets brace to continue incredible scoring statistic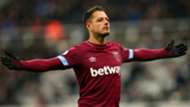 Javier "Chicharito" Hernandez has found the net twice for West Ham, and kept an interesting streak of his going in the process.
The Mexico international has seen his playing time come and go since returning from an illness that sidelined him for a month and half between the beginning of September and mid-October.
His last start came at the end of October in a 3-1 loss to Tottenham, but Chicharito was handed the start for West Ham as they visited Newcastle in Premier League action Saturday.
It did not take long for Chicharito to reward Manuel Pellegrini for his faith, as he found the back of the net 11 minutes into the contest to give West Ham the early edge.
The striker took advantage of a Robert Snodgrass cross to covert from inside the area, netting his second goal of the Premier League season and third overall.
Then in the second half, the striker doubled his total output for the season, as he netted his second.
Playing off the shoulder of the last defender, a flicked on header found its way into the path of Chicharito, who used his pace to charge into the area, and then slide the finish past Martin Dúbravka to secure his brace.
Not only did Chicharito make an argument as to why he should be a fixture in the West Ham XI, he also maintained a stat that shows him to be one of the better goal poachers in England.
The 30 year old has now scored 48 times in the English top flight. All 48 of those goals have come from inside the area.
The only player in Premier League history who has both scored all of his goals from inside the area and found the net more times than Chicharito has is former Everton man Tim Cahill.
The ex-Toffee scored all 56 of his goals in the Premier League from inside the area.
Now eight goals back of matching Cahill, if Chicharito has staked a claim as to why he deserves more chances to chase down the former Australia international.