Chelsea
Chelsea miss playing in the Champions League, says Conte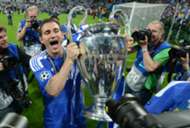 Antonio Conte has revealed that he and his players are missing Champions League football as they prepare to watch the next round of action in mid-week.
Chelsea are playing against West Ham on Monday night, but will have to watch the second legs of the games from home after failing to qualify for Europe last season thanks to a disappointing Premier League campaign.
'Kante wanted to go to Marseille'
Conte is used to Champions League football after managing Juventus and he is looking forward to bringing Chelsea back into the competition next season, with his side seven points clear at the top of the table.
"Yes, yes [we miss it]. For me and my players, yes," he said at a news conference at Cobham Training Centre. "The Champions League, I think, must be an appointment for us every year.
"It must be our house, the Champions League. For this reason, we are putting our strength into playing in the Champions League next season. It's a great competition for every single player, club and manager, and we want to stay there and try to fight to win it.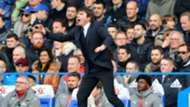 "I watched the Manchester City game against Monaco live, because I wanted to breathe it in, the right atmosphere, and feel this type of game. In the future, also, I hope to sit and watch games live.
"I saw a great game, a great game. To see eight goals is not simple, and not usual to find this."
The competition for Champions League places has become fierce in the Premier League with Chelsea, Liverpool and Manchester United missing out on qualification last season.
Conte will see anything less than a Premier League title win as a failure as his side are strong favourites to win the competition, but he also thinks that even qualifying for the Champions League in England is a major achievement given the competitive nature of the English top-flight.
"We started our season trying to fight until the end to win the title, and to try and fight until the end to be in the right position to go into next season's Champions League," he added.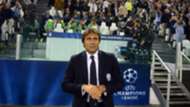 "This was our target. Our target. But for sure, it wasn't easy to start the season and know that six strong teams fight for the title and the Champions League. Don't forget, in this six teams, two won't play in the Champions League next season.
'Luiz has three great years ahead'
"They have to go into the Europa League, which is a bit different to the Champions League. But now this league is very, very difficult. To win the title and also find a place to play the Champions League is not easy."