Championship
Championship 2019-20 fixtures: Leeds United, Derby County & all 24 teams' matches for new season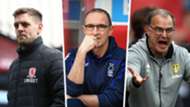 The 2019-20 Championship fixtures have been released, with the likes of Leeds United, Derby County and Nottingham Forest all learning their match schedules for the season.
Marcelo Bielsa's Leeds kick off their campaign away to Bristol City, while Derby County, who may have appointed a new manager by the start of the season with Frank Lampard strongly linked with Chelsea, face recently relegated Huddersfield Town.
Forest, who are managed by former Celtic and Leicester City boss Martin O'Neill, get things under way against West Brom, while Middlesbrough, now under the guidance of Jonathan Woodgate, play Luton Town on the opening weekend.
You can see the full fixture lists for all 24 teams below.
Jump to...
---
Barnsley
---
| Date | Time | Match |
| --- | --- | --- |
| 03/08/2019 | 15:00 | Barnsley v Fulham |
| 10/08/2019 | 15:00 | Sheffield Wednesday v Barnsley |
| 17/08/2019 | 15:00 | Barnsley v Charlton Athletic |
| 20/08/2019 | 19:45 | Birmingham City v Barnsley |
| 24/08/2019 | 15:00 | Barnsley v Luton Town |
| 31/08/2019 | 15:00 | Wigan Athletic v Barnsley |
| 14/09/2019 | 15:00 | Barnsley v Leeds United |
| 21/09/2019 | 15:00 | Nottingham Forest v Barnsley |
| 28/09/2019 | 15:00 | Barnsley v Brentford |
| 02/10/2019 | 19:45 | Barnsley v Derby County |
| 05/10/2019 | 15:00 | Preston North End v Barnsley |
| 19/10/2019 | 15:00 | Barnsley v Swansea City |
| 22/10/2019 | 20:00 | West Bromwich Albion v Barnsley |
| 26/10/2019 | 15:00 | Huddersfield Town v Barnsley |
| 02/11/2019 | 15:00 | Barnsley v Bristol City |
| 09/11/2019 | 15:00 | Barnsley v Stoke City |
| 23/11/2019 | 15:00 | Blackburn Rovers v Barnsley |
| 27/11/2019 | 19:45 | Middlesbrough v Barnsley |
| 30/11/2019 | 15:00 | Barnsley v Hull City |
| 07/12/2019 | 15:00 | Cardiff City v Barnsley |
| 11/12/2019 | 19:45 | Barnsley v Reading |
| 14/12/2019 | 15:00 | Barnsley v Queens Park Rangers |
| 21/12/2019 | 15:00 | Millwall v Barnsley |
| 26/12/2019 | 15:00 | Barnsley v West Bromwich Albion |
| 29/12/2019 | 15:00 | Swansea City v Barnsley |
| 01/01/2020 | 15:00 | Derby County v Barnsley |
| 11/01/2020 | 15:00 | Barnsley v Huddersfield Town |
| 18/01/2020 | 15:00 | Bristol City v Barnsley |
| 25/01/2020 | 15:00 | Barnsley v Preston North End |
| 01/02/2020 | 15:00 | Charlton Athletic v Barnsley |
| 08/02/2020 | 15:00 | Barnsley v Sheffield Wednesday |
| 11/02/2020 | 19:45 | Barnsley v Birmingham City |
| 15/02/2020 | 15:00 | Fulham v Barnsley |
| 22/02/2020 | 15:00 | Barnsley v Middlesbrough |
| 26/02/2020 | 19:45 | Hull City v Barnsley |
| 29/02/2020 | 15:00 | Reading v Barnsley |
| 07/03/2020 | 15:00 | Barnsley v Cardiff City |
| 14/03/2020 | 15:00 | Queens Park Rangers v Barnsley |
| 17/03/2020 | 19:45 | Barnsley v Millwall |
| 21/03/2020 | 15:00 | Barnsley v Blackburn Rovers |
| 04/04/2020 | 15:00 | Stoke City v Barnsley |
| 10/04/2020 | 15:00 | Luton Town v Barnsley |
| 13/04/2020 | 15:00 | Barnsley v Wigan Athletic |
| 18/04/2020 | 15:00 | Leeds United v Barnsley |
| 25/04/2020 | 15:00 | Barnsley v Nottingham Forest |
| 02/05/2020 | 12:30 | Brentford v Barnsley |
Return to top
---
Birmingham City
---
| Date | Time | Match |
| --- | --- | --- |
| 03/08/2019 | 15:00 | Brentford v Birmingham City |
| 10/08/2019 | 15:00 | Birmingham City v Bristol City |
| 17/08/2019 | 15:00 | Nottingham Forest v Birmingham City |
| 20/08/2019 | 19:45 | Birmingham City v Barnsley |
| 24/08/2019 | 15:00 | Swansea City v Birmingham City |
| 31/08/2019 | 15:00 | Birmingham City v Stoke City |
| 14/09/2019 | 15:00 | Charlton Athletic v Birmingham City |
| 21/09/2019 | 15:00 | Birmingham City v Preston North End |
| 28/09/2019 | 15:00 | Derby County v Birmingham City |
| 01/10/2019 | 19:45 | Wigan Athletic v Birmingham City |
| 05/10/2019 | 15:00 | Birmingham City v Middlesbrough |
| 19/10/2019 | 15:00 | Leeds United v Birmingham City |
| 22/10/2019 | 19:45 | Birmingham City v Blackburn Rovers |
| 26/10/2019 | 15:00 | Birmingham City v Luton Town |
| 02/11/2019 | 15:00 | Cardiff City v Birmingham City |
| 09/11/2019 | 15:00 | Birmingham City v Fulham |
| 23/11/2019 | 15:00 | Huddersfield Town v Birmingham City |
| 27/11/2019 | 19:45 | Sheffield Wednesday v Birmingham City |
| 30/11/2019 | 15:00 | Birmingham City v Millwall |
| 07/12/2019 | 15:00 | Reading v Birmingham City |
| 11/12/2019 | 19:45 | Birmingham City v Queens Park Rangers |
| 14/12/2019 | 15:00 | Birmingham City v West Bromwich Albion |
| 21/12/2019 | 15:00 | Hull City v Birmingham City |
| 26/12/2019 | 15:00 | Blackburn Rovers v Birmingham City |
| 29/12/2019 | 15:00 | Birmingham City v Leeds United |
| 01/01/2020 | 15:00 | Birmingham City v Wigan Athletic |
| 11/01/2020 | 15:00 | Luton Town v Birmingham City |
| 18/01/2020 | 15:00 | Birmingham City v Cardiff City |
| 25/01/2020 | 15:00 | Middlesbrough v Birmingham City |
| 01/02/2020 | 15:00 | Birmingham City v Nottingham Forest |
| 08/02/2020 | 15:00 | Bristol City v Birmingham City |
| 11/02/2020 | 19:45 | Barnsley v Birmingham City |
| 15/02/2020 | 15:00 | Birmingham City v Brentford |
| 22/02/2020 | 15:00 | Birmingham City v Sheffield Wednesday |
| 26/02/2020 | 19:45 | Millwall v Birmingham City |
| 29/02/2020 | 15:00 | Queens Park Rangers v Birmingham City |
| 07/03/2020 | 15:00 | Birmingham City v Reading |
| 14/03/2020 | 15:00 | West Bromwich Albion v Birmingham City |
| 18/03/2020 | 19:45 | Birmingham City v Hull City |
| 21/03/2020 | 15:00 | Birmingham City v Huddersfield Town |
| 04/04/2020 | 15:00 | Fulham v Birmingham City |
| 10/04/2020 | 15:00 | Birmingham City v Swansea City |
| 13/04/2020 | 15:00 | Stoke City v Birmingham City |
| 18/04/2020 | 15:00 | Birmingham City v Charlton Athletic |
| 25/04/2020 | 15:00 | Preston North End v Birmingham City |
| 02/05/2020 | 12:30 | Birmingham City v Derby County |
Return to top
---
Blackburn Rovers
---
| Date | Time | Match |
| --- | --- | --- |
| 03/08/2019 | 15:00 | Blackburn Rovers v Charlton Athletic |
| 10/08/2019 | 15:00 | Fulham v Blackburn Rovers |
| 17/08/2019 | 15:00 | Blackburn Rovers v Middlesbrough |
| 20/08/2019 | 19:45 | Hull City v Blackburn Rovers |
| 24/08/2019 | 15:00 | Blackburn Rovers v Cardiff City |
| 31/08/2019 | 15:00 | West Bromwich Albion v Blackburn Rovers |
| 14/09/2019 | 15:00 | Blackburn Rovers v Millwall |
| 21/09/2019 | 15:00 | Reading v Blackburn Rovers |
| 28/09/2019 | 15:00 | Blackburn Rovers v Luton Town |
| 01/10/2019 | 19:45 | Blackburn Rovers v Nottingham Forest |
| 05/10/2019 | 15:00 | Queens Park Rangers v Blackburn Rovers |
| 19/10/2019 | 15:00 | Blackburn Rovers v Huddersfield Town |
| 22/10/2019 | 19:45 | Birmingham City v Blackburn Rovers |
| 26/10/2019 | 15:00 | Preston North End v Blackburn Rovers |
| 02/11/2019 | 15:00 | Blackburn Rovers v Sheffield Wednesday |
| 09/11/2019 | 15:00 | Leeds United v Blackburn Rovers |
| 23/11/2019 | 15:00 | Blackburn Rovers v Barnsley |
| 27/11/2019 | 19:45 | Blackburn Rovers v Brentford |
| 30/11/2019 | 15:00 | Stoke City v Blackburn Rovers |
| 07/12/2019 | 15:00 | Blackburn Rovers v Derby County |
| 11/12/2019 | 19:45 | Swansea City v Blackburn Rovers |
| 14/12/2019 | 15:00 | Bristol City v Blackburn Rovers |
| 21/12/2019 | 15:00 | Blackburn Rovers v Wigan Athletic |
| 26/12/2019 | 15:00 | Blackburn Rovers v Birmingham City |
| 29/12/2019 | 15:00 | Huddersfield Town v Blackburn Rovers |
| 01/01/2020 | 15:00 | Nottingham Forest v Blackburn Rovers |
| 11/01/2020 | 15:00 | Blackburn Rovers v Preston North End |
| 18/01/2020 | 15:00 | Sheffield Wednesday v Blackburn Rovers |
| 25/01/2020 | 15:00 | Blackburn Rovers v Queens Park Rangers |
| 01/02/2020 | 15:00 | Middlesbrough v Blackburn Rovers |
| 08/02/2020 | 15:00 | Blackburn Rovers v Fulham |
| 11/02/2020 | 19:45 | Blackburn Rovers v Hull City |
| 15/02/2020 | 15:00 | Charlton Athletic v Blackburn Rovers |
| 22/02/2020 | 15:00 | Brentford v Blackburn Rovers |
| 26/02/2020 | 19:45 | Blackburn Rovers v Stoke City |
| 29/02/2020 | 15:00 | Blackburn Rovers v Swansea City |
| 07/03/2020 | 15:00 | Derby County v Blackburn Rovers |
| 14/03/2020 | 15:00 | Blackburn Rovers v Bristol City |
| 18/03/2020 | 19:45 | Wigan Athletic v Blackburn Rovers |
| 21/03/2020 | 15:00 | Barnsley v Blackburn Rovers |
| 04/04/2020 | 15:00 | Blackburn Rovers v Leeds United |
| 10/04/2020 | 15:00 | Cardiff City v Blackburn Rovers |
| 13/04/2020 | 15:00 | Blackburn Rovers v West Bromwich Albion |
| 18/04/2020 | 15:00 | Millwall v Blackburn Rovers |
| 25/04/2020 | 15:00 | Blackburn Rovers v Reading |
| 02/05/2020 | 12:30 | Luton Town v Blackburn Rovers |
Return to top
---
Brentford
---
| Date | Time | Match |
| --- | --- | --- |
| 03/08/2019 | 15:00 | Brentford v Birmingham City |
| 10/08/2019 | 15:00 | Middlesbrough v Brentford |
| 17/08/2019 | 15:00 | Brentford v Hull City |
| 21/08/2019 | 19:45 | Leeds United v Brentford |
| 24/08/2019 | 15:00 | Charlton Athletic v Brentford |
| 31/08/2019 | 15:00 | Brentford v Derby County |
| 14/09/2019 | 15:00 | Preston North End v Brentford |
| 21/09/2019 | 15:00 | Brentford v Stoke City |
| 28/09/2019 | 15:00 | Barnsley v Brentford |
| 02/10/2019 | 19:45 | Brentford v Bristol City |
| 05/10/2019 | 15:00 | Nottingham Forest v Brentford |
| 19/10/2019 | 15:00 | Brentford v Millwall |
| 22/10/2019 | 19:45 | Swansea City v Brentford |
| 26/10/2019 | 15:00 | Queens Park Rangers v Brentford |
| 02/11/2019 | 15:00 | Brentford v Huddersfield Town |
| 09/11/2019 | 15:00 | Wigan Athletic v Brentford |
| 23/11/2019 | 15:00 | Brentford v Reading |
| 27/11/2019 | 19:45 | Blackburn Rovers v Brentford |
| 30/11/2019 | 15:00 | Brentford v Luton Town |
| 07/12/2019 | 15:00 | Sheffield Wednesday v Brentford |
| 11/12/2019 | 19:45 | Brentford v Cardiff City |
| 14/12/2019 | 15:00 | Brentford v Fulham |
| 21/12/2019 | 15:00 | West Bromwich Albion v Brentford |
| 26/12/2019 | 15:00 | Brentford v Swansea City |
| 29/12/2019 | 15:00 | Millwall v Brentford |
| 01/01/2020 | 15:00 | Bristol City v Brentford |
| 11/01/2020 | 15:00 | Brentford v Queens Park Rangers |
| 18/01/2020 | 15:00 | Huddersfield Town v Brentford |
| 25/01/2020 | 15:00 | Brentford v Nottingham Forest |
| 01/02/2020 | 15:00 | Hull City v Brentford |
| 08/02/2020 | 15:00 | Brentford v Middlesbrough |
| 11/02/2020 | 19:45 | Brentford v Leeds United |
| 15/02/2020 | 15:00 | Birmingham City v Brentford |
| 22/02/2020 | 15:00 | Brentford v Blackburn Rovers |
| 25/02/2020 | 19:45 | Luton Town v Brentford |
| 29/02/2020 | 15:00 | Cardiff City v Brentford |
| 07/03/2020 | 15:00 | Brentford v Sheffield Wednesday |
| 14/03/2020 | 15:00 | Fulham v Brentford |
| 17/03/2020 | 19:45 | Brentford v West Bromwich Albion |
| 21/03/2020 | 15:00 | Reading v Brentford |
| 04/04/2020 | 15:00 | Brentford v Wigan Athletic |
| 10/04/2020 | 15:00 | Brentford v Charlton Athletic |
| 13/04/2020 | 15:00 | Derby County v Brentford |
| 18/04/2020 | 15:00 | Brentford v Preston North End |
| 25/04/2020 | 15:00 | Stoke City v Brentford |
| 02/05/2020 | 12:30 | Brentford v Barnsley |
Return to top
---
Bristol City
---
| Date | Time | Match |
| --- | --- | --- |
| 04/08/2019 | 16:30 | Bristol City v Leeds United |
| 10/08/2019 | 15:00 | Birmingham City v Bristol City |
| 17/08/2019 | 15:00 | Bristol City v Queens Park Rangers |
| 20/08/2019 | 19:45 | Derby County v Bristol City |
| 24/08/2019 | 15:00 | Hull City v Bristol City |
| 31/08/2019 | 15:00 | Bristol City v Middlesbrough |
| 14/09/2019 | 15:00 | Stoke City v Bristol City |
| 21/09/2019 | 15:00 | Bristol City v Swansea City |
| 28/09/2019 | 15:00 | Preston North End v Bristol City |
| 02/10/2019 | 19:45 | Brentford v Bristol City |
| 05/10/2019 | 15:00 | Bristol City v Reading |
| 19/10/2019 | 15:00 | Luton Town v Bristol City |
| 23/10/2019 | 19:45 | Bristol City v Charlton Athletic |
| 26/10/2019 | 15:00 | Bristol City v Wigan Athletic |
| 02/11/2019 | 15:00 | Barnsley v Bristol City |
| 09/11/2019 | 15:00 | Cardiff City v Bristol City |
| 23/11/2019 | 15:00 | Bristol City v Nottingham Forest |
| 27/11/2019 | 20:00 | West Bromwich Albion v Bristol City |
| 30/11/2019 | 15:00 | Bristol City v Huddersfield Town |
| 07/12/2019 | 15:00 | Fulham v Bristol City |
| 10/12/2019 | 19:45 | Bristol City v Millwall |
| 14/12/2019 | 15:00 | Bristol City v Blackburn Rovers |
| 21/12/2019 | 15:00 | Sheffield Wednesday v Bristol City |
| 26/12/2019 | 15:00 | Charlton Athletic v Bristol City |
| 29/12/2019 | 15:00 | Bristol City v Luton Town |
| 01/01/2020 | 15:00 | Bristol City v Brentford |
| 11/01/2020 | 15:00 | Wigan Athletic v Bristol City |
| 18/01/2020 | 15:00 | Bristol City v Barnsley |
| 25/01/2020 | 15:00 | Reading v Bristol City |
| 01/02/2020 | 15:00 | Queens Park Rangers v Bristol City |
| 08/02/2020 | 15:00 | Bristol City v Birmingham City |
| 12/02/2020 | 19:45 | Bristol City v Derby County |
| 15/02/2020 | 15:00 | Leeds United v Bristol City |
| 22/02/2020 | 15:00 | Bristol City v West Bromwich Albion |
| 25/02/2020 | 19:45 | Huddersfield Town v Bristol City |
| 29/02/2020 | 15:00 | Millwall v Bristol City |
| 07/03/2020 | 15:00 | Bristol City v Fulham |
| 14/03/2020 | 15:00 | Blackburn Rovers v Bristol City |
| 17/03/2020 | 19:45 | Bristol City v Sheffield Wednesday |
| 21/03/2020 | 15:00 | Nottingham Forest v Bristol City |
| 04/04/2020 | 15:00 | Bristol City v Cardiff City |
| 10/04/2020 | 15:00 | Bristol City v Hull City |
| 13/04/2020 | 15:00 | Middlesbrough v Bristol City |
| 18/04/2020 | 15:00 | Bristol City v Stoke City |
| 25/04/2020 | 15:00 | Swansea City v Bristol City |
| 02/05/2020 | 12:30 | Bristol City v Preston North End |
Return to top
---
Cardiff City
---
| Date | Time | Match |
| --- | --- | --- |
| 03/08/2019 | 15:00 | Wigan Athletic v Cardiff City |
| 10/08/2019 | 15:00 | Cardiff City v Luton Town |
| 17/08/2019 | 15:00 | Reading v Cardiff City |
| 21/08/2019 | 19:45 | Cardiff City v Huddersfield Town |
| 24/08/2019 | 15:00 | Blackburn Rovers v Cardiff City |
| 31/08/2019 | 15:00 | Cardiff City v Fulham |
| 14/09/2019 | 15:00 | Derby County v Cardiff City |
| 21/09/2019 | 15:00 | Cardiff City v Middlesbrough |
| 28/09/2019 | 15:00 | Hull City v Cardiff City |
| 02/10/2019 | 19:45 | Cardiff City v Queens Park Rangers |
| 05/10/2019 | 15:00 | West Bromwich Albion v Cardiff City |
| 19/10/2019 | 15:00 | Cardiff City v Sheffield Wednesday |
| 22/10/2019 | 19:45 | Millwall v Cardiff City |
| 26/10/2019 | 15:00 | Swansea City v Cardiff City |
| 02/11/2019 | 15:00 | Cardiff City v Birmingham City |
| 09/11/2019 | 15:00 | Cardiff City v Bristol City |
| 23/11/2019 | 15:00 | Charlton Athletic v Cardiff City |
| 26/11/2019 | 19:45 | Cardiff City v Stoke City |
| 30/11/2019 | 15:00 | Nottingham Forest v Cardiff City |
| 07/12/2019 | 15:00 | Cardiff City v Barnsley |
| 11/12/2019 | 19:45 | Brentford v Cardiff City |
| 14/12/2019 | 15:00 | Leeds United v Cardiff City |
| 21/12/2019 | 15:00 | Cardiff City v Preston North End |
| 26/12/2019 | 15:00 | Cardiff City v Millwall |
| 29/12/2019 | 15:00 | Sheffield Wednesday v Cardiff City |
| 01/01/2020 | 15:00 | Queens Park Rangers v Cardiff City |
| 11/01/2020 | 15:00 | Cardiff City v Swansea City |
| 18/01/2020 | 15:00 | Birmingham City v Cardiff City |
| 25/01/2020 | 15:00 | Cardiff City v West Bromwich Albion |
| 01/02/2020 | 15:00 | Cardiff City v Reading |
| 08/02/2020 | 15:00 | Luton Town v Cardiff City |
| 12/02/2020 | 19:45 | Huddersfield Town v Cardiff City |
| 15/02/2020 | 15:00 | Cardiff City v Wigan Athletic |
| 22/02/2020 | 15:00 | Stoke City v Cardiff City |
| 25/02/2020 | 19:45 | Cardiff City v Nottingham Forest |
| 29/02/2020 | 15:00 | Cardiff City v Brentford |
| 07/03/2020 | 15:00 | Barnsley v Cardiff City |
| 14/03/2020 | 15:00 | Cardiff City v Leeds United |
| 17/03/2020 | 19:45 | Preston North End v Cardiff City |
| 21/03/2020 | 15:00 | Cardiff City v Charlton Athletic |
| 04/04/2020 | 15:00 | Bristol City v Cardiff City |
| 10/04/2020 | 15:00 | Cardiff City v Blackburn Rovers |
| 13/04/2020 | 15:00 | Fulham v Cardiff City |
| 18/04/2020 | 15:00 | Cardiff City v Derby County |
| 25/04/2020 | 15:00 | Middlesbrough v Cardiff City |
| 02/05/2020 | 12:30 | Cardiff City v Hull City |
Return to top
---
Charlton Athletic
---
| Date | Time | Match |
| --- | --- | --- |
| 03/08/2019 | 15:00 | Blackburn Rovers v Charlton Athletic |
| 10/08/2019 | 15:00 | Charlton Athletic v Stoke City |
| 17/08/2019 | 15:00 | Barnsley v Charlton Athletic |
| 21/08/2019 | 19:45 | Charlton Athletic v Nottingham Forest |
| 24/08/2019 | 15:00 | Charlton Athletic v Brentford |
| 31/08/2019 | 15:00 | Reading v Charlton Athletic |
| 14/09/2019 | 15:00 | Charlton Athletic v Birmingham City |
| 21/09/2019 | 15:00 | Wigan Athletic v Charlton Athletic |
| 28/09/2019 | 15:00 | Charlton Athletic v Leeds United |
| 02/10/2019 | 19:45 | Charlton Athletic v Swansea City |
| 05/10/2019 | 15:00 | Fulham v Charlton Athletic |
| 19/10/2019 | 15:00 | Charlton Athletic v Derby County |
| 23/10/2019 | 19:45 | Bristol City v Charlton Athletic |
| 26/10/2019 | 15:00 | West Bromwich Albion v Charlton Athletic |
| 02/11/2019 | 15:00 | Charlton Athletic v Preston North End |
| 09/11/2019 | 15:00 | Millwall v Charlton Athletic |
| 23/11/2019 | 15:00 | Charlton Athletic v Cardiff City |
| 26/11/2019 | 19:45 | Luton Town v Charlton Athletic |
| 30/11/2019 | 15:00 | Charlton Athletic v Sheffield Wednesday |
| 07/12/2019 | 15:00 | Middlesbrough v Charlton Athletic |
| 10/12/2019 | 19:45 | Charlton Athletic v Huddersfield Town |
| 14/12/2019 | 15:00 | Charlton Athletic v Hull City |
| 21/12/2019 | 15:00 | Queens Park Rangers v Charlton Athletic |
| 26/12/2019 | 15:00 | Charlton Athletic v Bristol City |
| 29/12/2019 | 15:00 | Derby County v Charlton Athletic |
| 01/01/2020 | 15:00 | Swansea City v Charlton Athletic |
| 11/01/2020 | 15:00 | Charlton Athletic v West Bromwich Albion |
| 18/01/2020 | 15:00 | Preston North End v Charlton Athletic |
| 25/01/2020 | 15:00 | Charlton Athletic v Fulham |
| 01/02/2020 | 15:00 | Charlton Athletic v Barnsley |
| 08/02/2020 | 15:00 | Stoke City v Charlton Athletic |
| 11/02/2020 | 19:45 | Nottingham Forest v Charlton Athletic |
| 15/02/2020 | 15:00 | Charlton Athletic v Blackburn Rovers |
| 22/02/2020 | 15:00 | Charlton Athletic v Luton Town |
| 26/02/2020 | 19:45 | Sheffield Wednesday v Charlton Athletic |
| 29/02/2020 | 15:00 | Huddersfield Town v Charlton Athletic |
| 07/03/2020 | 15:00 | Charlton Athletic v Middlesbrough |
| 14/03/2020 | 15:00 | Hull City v Charlton Athletic |
| 17/03/2020 | 19:45 | Charlton Athletic v Queens Park Rangers |
| 21/03/2020 | 15:00 | Cardiff City v Charlton Athletic |
| 04/04/2020 | 15:00 | Charlton Athletic v Millwall |
| 10/04/2020 | 15:00 | Brentford v Charlton Athletic |
| 13/04/2020 | 15:00 | Charlton Athletic v Reading |
| 18/04/2020 | 15:00 | Birmingham City v Charlton Athletic |
| 25/04/2020 | 15:00 | Charlton Athletic v Wigan Athletic |
| 02/05/2020 | 12:30 | Leeds United v Charlton Athletic |
Return to top
---
Derby County
---
| Date | Time | Match |
| --- | --- | --- |
| 05/08/2019 | 19:45 | Huddersfield Town v Derby County |
| 10/08/2019 | 15:00 | Derby County v Swansea City |
| 17/08/2019 | 15:00 | Stoke City v Derby County |
| 20/08/2019 | 19:45 | Derby County v Bristol City |
| 24/08/2019 | 15:00 | Derby County v West Bromwich Albion |
| 31/08/2019 | 15:00 | Brentford v Derby County |
| 14/09/2019 | 15:00 | Derby County v Cardiff City |
| 21/09/2019 | 15:00 | Leeds United v Derby County |
| 28/09/2019 | 15:00 | Derby County v Birmingham City |
| 02/10/2019 | 19:45 | Barnsley v Derby County |
| 05/10/2019 | 15:00 | Derby County v Luton Town |
| 19/10/2019 | 15:00 | Charlton Athletic v Derby County |
| 23/10/2019 | 19:45 | Derby County v Wigan Athletic |
| 26/10/2019 | 15:00 | Hull City v Derby County |
| 02/11/2019 | 15:00 | Derby County v Middlesbrough |
| 09/11/2019 | 15:00 | Nottingham Forest v Derby County |
| 23/11/2019 | 15:00 | Derby County v Preston North End |
| 26/11/2019 | 19:45 | Fulham v Derby County |
| 30/11/2019 | 15:00 | Derby County v Queens Park Rangers |
| 07/12/2019 | 15:00 | Blackburn Rovers v Derby County |
| 11/12/2019 | 19:45 | Derby County v Sheffield Wednesday |
| 14/12/2019 | 15:00 | Derby County v Millwall |
| 21/12/2019 | 15:00 | Reading v Derby County |
| 26/12/2019 | 15:00 | Wigan Athletic v Derby County |
| 29/12/2019 | 15:00 | Derby County v Charlton Athletic |
| 01/01/2020 | 15:00 | Derby County v Barnsley |
| 11/01/2020 | 15:00 | Middlesbrough v Derby County |
| 18/01/2020 | 15:00 | Derby County v Hull City |
| 25/01/2020 | 15:00 | Luton Town v Derby County |
| 01/02/2020 | 15:00 | Derby County v Stoke City |
| 08/02/2020 | 15:00 | Swansea City v Derby County |
| 12/02/2020 | 19:45 | Bristol City v Derby County |
| 15/02/2020 | 15:00 | Derby County v Huddersfield Town |
| 22/02/2020 | 15:00 | Derby County v Fulham |
| 25/02/2020 | 19:45 | Queens Park Rangers v Derby County |
| 29/02/2020 | 15:00 | Sheffield Wednesday v Derby County |
| 07/03/2020 | 15:00 | Derby County v Blackburn Rovers |
| 14/03/2020 | 15:00 | Millwall v Derby County |
| 17/03/2020 | 19:45 | Derby County v Reading |
| 21/03/2020 | 15:00 | Preston North End v Derby County |
| 04/04/2020 | 15:00 | Derby County v Nottingham Forest |
| 10/04/2020 | 15:00 | West Bromwich Albion v Derby County |
| 13/04/2020 | 15:00 | Derby County v Brentford |
| 18/04/2020 | 15:00 | Cardiff City v Derby County |
| 25/04/2020 | 15:00 | Derby County v Leeds United |
| 02/05/2020 | 12:30 | Birmingham City v Derby County |
Return to top
---
Fulham
---
| Date | Time | Match |
| --- | --- | --- |
| 03/08/2019 | 15:00 | Barnsley v Fulham |
| 10/08/2019 | 15:00 | Fulham v Blackburn Rovers |
| 17/08/2019 | 15:00 | Huddersfield Town v Fulham |
| 21/08/2019 | 19:45 | Fulham v Millwall |
| 24/08/2019 | 15:00 | Fulham v Nottingham Forest |
| 31/08/2019 | 15:00 | Cardiff City v Fulham |
| 14/09/2019 | 15:00 | Fulham v West Bromwich Albion |
| 21/09/2019 | 15:00 | Sheffield Wednesday v Fulham |
| 28/09/2019 | 15:00 | Fulham v Wigan Athletic |
| 01/10/2019 | 20:00 | Reading v Fulham |
| 05/10/2019 | 15:00 | Fulham v Charlton Athletic |
| 19/10/2019 | 15:00 | Stoke City v Fulham |
| 23/10/2019 | 19:45 | Fulham v Luton Town |
| 26/10/2019 | 15:00 | Middlesbrough v Fulham |
| 02/11/2019 | 15:00 | Fulham v Hull City |
| 09/11/2019 | 15:00 | Birmingham City v Fulham |
| 23/11/2019 | 15:00 | Fulham v Queens Park Rangers |
| 26/11/2019 | 19:45 | Fulham v Derby County |
| 30/11/2019 | 15:00 | Swansea City v Fulham |
| 07/12/2019 | 15:00 | Fulham v Bristol City |
| 10/12/2019 | 19:45 | Preston North End v Fulham |
| 14/12/2019 | 15:00 | Brentford v Fulham |
| 21/12/2019 | 15:00 | Fulham v Leeds United |
| 26/12/2019 | 15:00 | Luton Town v Fulham |
| 29/12/2019 | 15:00 | Fulham v Stoke City |
| 01/01/2020 | 15:00 | Fulham v Reading |
| 11/01/2020 | 15:00 | Hull City v Fulham |
| 18/01/2020 | 15:00 | Fulham v Middlesbrough |
| 25/01/2020 | 15:00 | Charlton Athletic v Fulham |
| 01/02/2020 | 15:00 | Fulham v Huddersfield Town |
| 08/02/2020 | 15:00 | Blackburn Rovers v Fulham |
| 12/02/2020 | 19:45 | Millwall v Fulham |
| 15/02/2020 | 15:00 | Fulham v Barnsley |
| 22/02/2020 | 15:00 | Derby County v Fulham |
| 25/02/2020 | 19:45 | Fulham v Swansea City |
| 29/02/2020 | 15:00 | Fulham v Preston North End |
| 07/03/2020 | 15:00 | Bristol City v Fulham |
| 14/03/2020 | 15:00 | Fulham v Brentford |
| 18/03/2020 | 19:45 | Leeds United v Fulham |
| 21/03/2020 | 15:00 | Queens Park Rangers v Fulham |
| 04/04/2020 | 15:00 | Fulham v Birmingham City |
| 10/04/2020 | 15:00 | Nottingham Forest v Fulham |
| 13/04/2020 | 15:00 | Fulham v Cardiff City |
| 18/04/2020 | 15:00 | West Bromwich Albion v Fulham |
| 25/04/2020 | 15:00 | Fulham v Sheffield Wednesday |
| 02/05/2020 | 12:30 | Wigan Athletic v Fulham |
Return to top
---
Huddersfield Town
---
| Date | Time | Match |
| --- | --- | --- |
| 05/08/2019 | 19:45 | Huddersfield Town v Derby County |
| 10/08/2019 | 15:00 | Queens Park Rangers v Huddersfield Town |
| 17/08/2019 | 15:00 | Huddersfield Town v Fulham |
| 21/08/2019 | 19:45 | Cardiff City v Huddersfield Town |
| 24/08/2019 | 15:00 | Huddersfield Town v Reading |
| 31/08/2019 | 15:00 | Luton Town v Huddersfield Town |
| 14/09/2019 | 15:00 | Huddersfield Town v Sheffield Wednesday |
| 21/09/2019 | 15:00 | West Bromwich Albion v Huddersfield Town |
| 28/09/2019 | 15:00 | Huddersfield Town v Millwall |
| 01/10/2019 | 20:00 | Stoke City v Huddersfield Town |
| 05/10/2019 | 15:00 | Huddersfield Town v Hull City |
| 19/10/2019 | 15:00 | Blackburn Rovers v Huddersfield Town |
| 23/10/2019 | 19:45 | Huddersfield Town v Middlesbrough |
| 26/10/2019 | 15:00 | Huddersfield Town v Barnsley |
| 02/11/2019 | 15:00 | Brentford v Huddersfield Town |
| 09/11/2019 | 15:00 | Preston North End v Huddersfield Town |
| 23/11/2019 | 15:00 | Huddersfield Town v Birmingham City |
| 26/11/2019 | 19:45 | Huddersfield Town v Swansea City |
| 30/11/2019 | 15:00 | Bristol City v Huddersfield Town |
| 07/12/2019 | 15:00 | Huddersfield Town v Leeds United |
| 10/12/2019 | 19:45 | Charlton Athletic v Huddersfield Town |
| 14/12/2019 | 15:00 | Wigan Athletic v Huddersfield Town |
| 21/12/2019 | 15:00 | Huddersfield Town v Nottingham Forest |
| 26/12/2019 | 15:00 | Middlesbrough v Huddersfield Town |
| 29/12/2019 | 15:00 | Huddersfield Town v Blackburn Rovers |
| 01/01/2020 | 15:00 | Huddersfield Town v Stoke City |
| 11/01/2020 | 15:00 | Barnsley v Huddersfield Town |
| 18/01/2020 | 15:00 | Huddersfield Town v Brentford |
| 25/01/2020 | 15:00 | Hull City v Huddersfield Town |
| 01/02/2020 | 15:00 | Fulham v Huddersfield Town |
| 08/02/2020 | 15:00 | Huddersfield Town v Queens Park Rangers |
| 12/02/2020 | 19:45 | Huddersfield Town v Cardiff City |
| 15/02/2020 | 15:00 | Derby County v Huddersfield Town |
| 22/02/2020 | 15:00 | Swansea City v Huddersfield Town |
| 25/02/2020 | 19:45 | Huddersfield Town v Bristol City |
| 29/02/2020 | 15:00 | Huddersfield Town v Charlton Athletic |
| 07/03/2020 | 15:00 | Leeds United v Huddersfield Town |
| 14/03/2020 | 15:00 | Huddersfield Town v Wigan Athletic |
| 18/03/2020 | 19:45 | Nottingham Forest v Huddersfield Town |
| 21/03/2020 | 15:00 | Birmingham City v Huddersfield Town |
| 04/04/2020 | 15:00 | Huddersfield Town v Preston North End |
| 10/04/2020 | 15:00 | Reading v Huddersfield Town |
| 13/04/2020 | 15:00 | Huddersfield Town v Luton Town |
| 18/04/2020 | 15:00 | Sheffield Wednesday v Huddersfield Town |
| 25/04/2020 | 15:00 | Huddersfield Town v West Bromwich Albion |
| 02/05/2020 | 12:30 | Millwall v Huddersfield Town |
Return to top
---
Hull City
---
| Date | Time | Match |
| --- | --- | --- |
| 03/08/2019 | 15:00 | Swansea City v Hull City |
| 10/08/2019 | 15:00 | Hull City v Reading |
| 17/08/2019 | 15:00 | Brentford v Hull City |
| 20/08/2019 | 19:45 | Hull City v Blackburn Rovers |
| 24/08/2019 | 15:00 | Hull City v Bristol City |
| 31/08/2019 | 15:00 | Millwall v Hull City |
| 14/09/2019 | 15:00 | Hull City v Wigan Athletic |
| 21/09/2019 | 15:00 | Luton Town v Hull City |
| 28/09/2019 | 15:00 | Hull City v Cardiff City |
| 01/10/2019 | 19:45 | Hull City v Sheffield Wednesday |
| 05/10/2019 | 15:00 | Huddersfield Town v Hull City |
| 19/10/2019 | 15:00 | Hull City v Queens Park Rangers |
| 23/10/2019 | 19:45 | Nottingham Forest v Hull City |
| 26/10/2019 | 15:00 | Hull City v Derby County |
| 02/11/2019 | 15:00 | Fulham v Hull City |
| 09/11/2019 | 15:00 | Hull City v West Bromwich Albion |
| 23/11/2019 | 15:00 | Middlesbrough v Hull City |
| 27/11/2019 | 19:45 | Hull City v Preston North End |
| 30/11/2019 | 15:00 | Barnsley v Hull City |
| 07/12/2019 | 15:00 | Hull City v Stoke City |
| 10/12/2019 | 19:45 | Leeds United v Hull City |
| 14/12/2019 | 15:00 | Charlton Athletic v Hull City |
| 21/12/2019 | 15:00 | Hull City v Birmingham City |
| 26/12/2019 | 15:00 | Hull City v Nottingham Forest |
| 29/12/2019 | 15:00 | Queens Park Rangers v Hull City |
| 01/01/2020 | 15:00 | Sheffield Wednesday v Hull City |
| 11/01/2020 | 15:00 | Hull City v Fulham |
| 18/01/2020 | 15:00 | Derby County v Hull City |
| 25/01/2020 | 15:00 | Hull City v Huddersfield Town |
| 01/02/2020 | 15:00 | Hull City v Brentford |
| 08/02/2020 | 15:00 | Reading v Hull City |
| 11/02/2020 | 19:45 | Blackburn Rovers v Hull City |
| 15/02/2020 | 15:00 | Hull City v Swansea City |
| 22/02/2020 | 15:00 | Preston North End v Hull City |
| 26/02/2020 | 19:45 | Hull City v Barnsley |
| 29/02/2020 | 15:00 | Hull City v Leeds United |
| 07/03/2020 | 15:00 | Stoke City v Hull City |
| 14/03/2020 | 15:00 | Hull City v Charlton Athletic |
| 18/03/2020 | 19:45 | Birmingham City v Hull City |
| 21/03/2020 | 15:00 | Hull City v Middlesbrough |
| 04/04/2020 | 15:00 | West Bromwich Albion v Hull City |
| 10/04/2020 | 15:00 | Bristol City v Hull City |
| 13/04/2020 | 15:00 | Hull City v Millwall |
| 18/04/2020 | 15:00 | Wigan Athletic v Hull City |
| 25/04/2020 | 15:00 | Hull City v Luton Town |
| 02/05/2020 | 12:30 | Cardiff City v Hull City |
Return to top
---
Leeds United
---
| Date | TIme | Match |
| --- | --- | --- |
| 04/08/2019 | 16:30 | Bristol City v Leeds United |
| 10/08/2019 | 15:00 | Leeds United v Nottingham Forest |
| 17/08/2019 | 15:00 | Wigan Athletic v Leeds United |
| 21/08/2019 | 19:45 | Leeds United v Brentford |
| 24/08/2019 | 15:00 | Stoke City v Leeds United |
| 31/08/2019 | 15:00 | Leeds United v Swansea City |
| 14/09/2019 | 15:00 | Barnsley v Leeds United |
| 21/09/2019 | 15:00 | Leeds United v Derby County |
| 28/09/2019 | 15:00 | Charlton Athletic v Leeds United |
| 01/10/2019 | 19:45 | Leeds United v West Bromwich Albion |
| 05/10/2019 | 15:00 | Millwall v Leeds United |
| 19/10/2019 | 15:00 | Leeds United v Birmingham City |
| 23/10/2019 | 19:45 | Preston North End v Leeds United |
| 26/10/2019 | 15:00 | Sheffield Wednesday v Leeds United |
| 02/11/2019 | 15:00 | Leeds United v Queens Park Rangers |
| 09/11/2019 | 15:00 | Leeds United v Blackburn Rovers |
| 23/11/2019 | 15:00 | Luton Town v Leeds United |
| 26/11/2019 | 20:00 | Reading v Leeds United |
| 30/11/2019 | 15:00 | Leeds United v Middlesbrough |
| 07/12/2019 | 15:00 | Huddersfield Town v Leeds United |
| 10/12/2019 | 19:45 | Leeds United v Hull City |
| 14/12/2019 | 15:00 | Leeds United v Cardiff City |
| 21/12/2019 | 15:00 | Fulham v Leeds United |
| 26/12/2019 | 15:00 | Leeds United v Preston North End |
| 29/12/2019 | 15:00 | Birmingham City v Leeds United |
| 01/01/2020 | 15:00 | West Bromwich Albion v Leeds United |
| 11/01/2020 | 15:00 | Leeds United v Sheffield Wednesday |
| 18/01/2020 | 15:00 | Queens Park Rangers v Leeds United |
| 25/01/2020 | 15:00 | Leeds United v Millwall |
| 01/02/2020 | 15:00 | Leeds United v Wigan Athletic |
| 08/02/2020 | 15:00 | Nottingham Forest v Leeds United |
| 11/02/2020 | 19:45 | Brentford v Leeds United |
| 15/02/2020 | 15:00 | Leeds United v Bristol City |
| 22/02/2020 | 15:00 | Leeds United v Reading |
| 26/02/2020 | 19:45 | Middlesbrough v Leeds United |
| 29/02/2020 | 15:00 | Hull City v Leeds United |
| 07/03/2020 | 15:00 | Leeds United v Huddersfield Town |
| 14/03/2020 | 15:00 | Cardiff City v Leeds United |
| 18/03/2020 | 19:45 | Leeds United v Fulham |
| 21/03/2020 | 15:00 | Leeds United v Luton Town |
| 04/04/2020 | 15:00 | Blackburn Rovers v Leeds United |
| 10/04/2020 | 15:00 | Leeds United v Stoke City |
| 13/04/2020 | 15:00 | Swansea City v Leeds United |
| 18/04/2020 | 15:00 | Leeds United v Barnsley |
| 25/04/2020 | 15:00 | Derby County v Leeds United |
| 02/05/2020 | 12:30 | Leeds United v Charlton Athletic |
Return to top
---
Luton Town
---
| Date | Time | Match |
| --- | --- | --- |
| 02/08/2019 | 19:45 | Luton Town v Middlesbrough |
| 10/08/2019 | 15:00 | Cardiff City v Luton Town |
| 17/08/2019 | 15:00 | Luton Town v West Bromwich Albion |
| 20/08/2019 | 19:45 | Sheffield Wednesday v Luton Town |
| 24/08/2019 | 15:00 | Barnsley v Luton Town |
| 31/08/2019 | 15:00 | Luton Town v Huddersfield Town |
| 14/09/2019 | 15:00 | Queens Park Rangers v Luton Town |
| 21/09/2019 | 15:00 | Luton Town v Hull City |
| 28/09/2019 | 15:00 | Blackburn Rovers v Luton Town |
| 02/10/2019 | 19:45 | Luton Town v Millwall |
| 05/10/2019 | 15:00 | Derby County v Luton Town |
| 19/10/2019 | 15:00 | Luton Town v Bristol City |
| 23/10/2019 | 19:45 | Fulham v Luton Town |
| 26/10/2019 | 15:00 | Birmingham City v Luton Town |
| 02/11/2019 | 15:00 | Luton Town v Nottingham Forest |
| 09/11/2019 | 15:00 | Reading v Luton Town |
| 23/11/2019 | 15:00 | Luton Town v Leeds United |
| 26/11/2019 | 19:45 | Luton Town v Charlton Athletic |
| 30/11/2019 | 15:00 | Brentford v Luton Town |
| 07/12/2019 | 15:00 | Luton Town v Wigan Athletic |
| 10/12/2019 | 20:00 | Stoke City v Luton Town |
| 14/12/2019 | 15:00 | Preston North End v Luton Town |
| 21/12/2019 | 15:00 | Luton Town v Swansea City |
| 26/12/2019 | 15:00 | Luton Town v Fulham |
| 29/12/2019 | 15:00 | Bristol City v Luton Town |
| 01/01/2020 | 15:00 | Millwall v Luton Town |
| 11/01/2020 | 15:00 | Luton Town v Birmingham City |
| 18/01/2020 | 15:00 | Nottingham Forest v Luton Town |
| 25/01/2020 | 15:00 | Luton Town v Derby County |
| 01/02/2020 | 15:00 | West Bromwich Albion v Luton Town |
| 08/02/2020 | 15:00 | Luton Town v Cardiff City |
| 12/02/2020 | 19:45 | Luton Town v Sheffield Wednesday |
| 15/02/2020 | 15:00 | Middlesbrough v Luton Town |
| 22/02/2020 | 15:00 | Charlton Athletic v Luton Town |
| 25/02/2020 | 19:45 | Luton Town v Brentford |
| 29/02/2020 | 15:00 | Luton Town v Stoke City |
| 07/03/2020 | 15:00 | Wigan Athletic v Luton Town |
| 14/03/2020 | 15:00 | Luton Town v Preston North End |
| 18/03/2020 | 19:45 | Swansea City v Luton Town |
| 21/03/2020 | 15:00 | Leeds United v Luton Town |
| 04/04/2020 | 15:00 | Luton Town v Reading |
| 10/04/2020 | 15:00 | Luton Town v Barnsley |
| 13/04/2020 | 15:00 | Huddersfield Town v Luton Town |
| 18/04/2020 | 15:00 | Luton Town v Queens Park Rangers |
| 25/04/2020 | 15:00 | Hull City v Luton Town |
| 02/05/2020 | 12:30 | Luton Town v Blackburn Rovers |
Return to top
---
Middlesbrough
---
| Date | Time | Match |
| --- | --- | --- |
| 02/08/2019 | 19:45 | Luton Town v Middlesbrough |
| 10/08/2019 | 15:00 | Middlesbrough v Brentford |
| 17/08/2019 | 15:00 | Blackburn Rovers v Middlesbrough |
| 20/08/2019 | 19:45 | Middlesbrough v Wigan Athletic |
| 24/08/2019 | 15:00 | Middlesbrough v Millwall |
| 31/08/2019 | 15:00 | Bristol City v Middlesbrough |
| 14/09/2019 | 15:00 | Middlesbrough v Reading |
| 21/09/2019 | 15:00 | Cardiff City v Middlesbrough |
| 28/09/2019 | 15:00 | Middlesbrough v Sheffield Wednesday |
| 01/10/2019 | 19:45 | Middlesbrough v Preston North End |
| 05/10/2019 | 15:00 | Birmingham City v Middlesbrough |
| 19/10/2019 | 15:00 | Middlesbrough v West Bromwich Albion |
| 23/10/2019 | 19:45 | Huddersfield Town v Middlesbrough |
| 26/10/2019 | 15:00 | Middlesbrough v Fulham |
| 02/11/2019 | 15:00 | Derby County v Middlesbrough |
| 09/11/2019 | 15:00 | Queens Park Rangers v Middlesbrough |
| 23/11/2019 | 15:00 | Middlesbrough v Hull City |
| 27/11/2019 | 19:45 | Middlesbrough v Barnsley |
| 30/11/2019 | 15:00 | Leeds United v Middlesbrough |
| 07/12/2019 | 15:00 | Middlesbrough v Charlton Athletic |
| 10/12/2019 | 19:45 | Nottingham Forest v Middlesbrough |
| 14/12/2019 | 15:00 | Swansea City v Middlesbrough |
| 21/12/2019 | 15:00 | Middlesbrough v Stoke City |
| 26/12/2019 | 15:00 | Middlesbrough v Huddersfield Town |
| 29/12/2019 | 15:00 | West Bromwich Albion v Middlesbrough |
| 01/01/2020 | 15:00 | Preston North End v Middlesbrough |
| 11/01/2020 | 15:00 | Middlesbrough v Derby County |
| 18/01/2020 | 15:00 | Fulham v Middlesbrough |
| 25/01/2020 | 15:00 | Middlesbrough v Birmingham City |
| 01/02/2020 | 15:00 | Middlesbrough v Blackburn Rovers |
| 08/02/2020 | 15:00 | Brentford v Middlesbrough |
| 11/02/2020 | 19:45 | Wigan Athletic v Middlesbrough |
| 15/02/2020 | 15:00 | Middlesbrough v Luton Town |
| 22/02/2020 | 15:00 | Barnsley v Middlesbrough |
| 26/02/2020 | 19:45 | Middlesbrough v Leeds United |
| 29/02/2020 | 15:00 | Middlesbrough v Nottingham Forest |
| 07/03/2020 | 15:00 | Charlton Athletic v Middlesbrough |
| 14/03/2020 | 15:00 | Middlesbrough v Swansea City |
| 18/03/2020 | 20:00 | Stoke City v Middlesbrough |
| 21/03/2020 | 15:00 | Hull City v Middlesbrough |
| 04/04/2020 | 15:00 | Middlesbrough v Queens Park Rangers |
| 10/04/2020 | 15:00 | Millwall v Middlesbrough |
| 13/04/2020 | 15:00 | Middlesbrough v Bristol City |
| 18/04/2020 | 15:00 | Reading v Middlesbrough |
| 25/04/2020 | 15:00 | Middlesbrough v Cardiff City |
| 02/05/2020 | 12:30 | Sheffield Wednesday v Middlesbrough |
Return to top
---
Millwall
---
| Date | Time | Match |
| --- | --- | --- |
| 03/08/2019 | 15:00 | Millwall v Preston North End |
| 10/08/2019 | 15:00 | West Bromwich Albion v Millwall |
| 17/08/2019 | 15:00 | Millwall v Sheffield Wednesday |
| 21/08/2019 | 19:45 | Fulham v Millwall |
| 24/08/2019 | 15:00 | Middlesbrough v Millwall |
| 31/08/2019 | 15:00 | Millwall v Hull City |
| 14/09/2019 | 15:00 | Blackburn Rovers v Millwall |
| 21/09/2019 | 15:00 | Millwall v Queens Park Rangers |
| 28/09/2019 | 15:00 | Huddersfield Town v Millwall |
| 02/10/2019 | 19:45 | Luton Town v Millwall |
| 05/10/2019 | 15:00 | Millwall v Leeds United |
| 19/10/2019 | 15:00 | Brentford v Millwall |
| 22/10/2019 | 19:45 | Millwall v Cardiff City |
| 26/10/2019 | 15:00 | Millwall v Stoke City |
| 02/11/2019 | 15:00 | Reading v Millwall |
| 09/11/2019 | 15:00 | Millwall v Charlton Athletic |
| 23/11/2019 | 15:00 | Swansea City v Millwall |
| 26/11/2019 | 19:45 | Millwall v Wigan Athletic |
| 30/11/2019 | 15:00 | Birmingham City v Millwall |
| 07/12/2019 | 15:00 | Millwall v Nottingham Forest |
| 10/12/2019 | 19:45 | Bristol City v Millwall |
| 14/12/2019 | 15:00 | Derby County v Millwall |
| 21/12/2019 | 15:00 | Millwall v Barnsley |
| 26/12/2019 | 15:00 | Cardiff City v Millwall |
| 29/12/2019 | 15:00 | Millwall v Brentford |
| 01/01/2020 | 15:00 | Millwall v Luton Town |
| 11/01/2020 | 15:00 | Stoke City v Millwall |
| 18/01/2020 | 15:00 | Millwall v Reading |
| 25/01/2020 | 15:00 | Leeds United v Millwall |
| 01/02/2020 | 15:00 | Sheffield Wednesday v Millwall |
| 08/02/2020 | 15:00 | Millwall v West Bromwich Albion |
| 12/02/2020 | 19:45 | Millwall v Fulham |
| 15/02/2020 | 15:00 | Preston North End v Millwall |
| 22/02/2020 | 15:00 | Wigan Athletic v Millwall |
| 26/02/2020 | 19:45 | Millwall v Birmingham City |
| 29/02/2020 | 15:00 | Millwall v Bristol City |
| 07/03/2020 | 15:00 | Nottingham Forest v Millwall |
| 14/03/2020 | 15:00 | Millwall v Derby County |
| 17/03/2020 | 19:45 | Barnsley v Millwall |
| 21/03/2020 | 15:00 | Millwall v Swansea City |
| 04/04/2020 | 15:00 | Charlton Athletic v Millwall |
| 10/04/2020 | 15:00 | Millwall v Middlesbrough |
| 13/04/2020 | 15:00 | Hull City v Millwall |
| 18/04/2020 | 15:00 | Millwall v Blackburn Rovers |
| 25/04/2020 | 15:00 | Queens Park Rangers v Millwall |
| 02/05/2020 | 12:30 | Millwall v Huddersfield Town |
Return to top
---
Nottingham Forest
---
| Date | Time | Match |
| --- | --- | --- |
| 03/08/2019 | 17:30 | Nottingham Forest v West Bromwich Albion |
| 10/08/2019 | 15:00 | Leeds United v Nottingham Forest |
| 17/08/2019 | 15:00 | Nottingham Forest v Birmingham City |
| 21/08/2019 | 19:45 | Charlton Athletic v Nottingham Forest |
| 24/08/2019 | 15:00 | Fulham v Nottingham Forest |
| 31/08/2019 | 15:00 | Nottingham Forest v Preston North End |
| 14/09/2019 | 15:00 | Swansea City v Nottingham Forest |
| 21/09/2019 | 15:00 | Nottingham Forest v Barnsley |
| 28/09/2019 | 15:00 | Stoke City v Nottingham Forest |
| 01/10/2019 | 19:45 | Blackburn Rovers v Nottingham Forest |
| 05/10/2019 | 15:00 | Nottingham Forest v Brentford |
| 19/10/2019 | 15:00 | Wigan Athletic v Nottingham Forest |
| 23/10/2019 | 19:45 | Nottingham Forest v Hull City |
| 26/10/2019 | 15:00 | Nottingham Forest v Reading |
| 02/11/2019 | 15:00 | Luton Town v Nottingham Forest |
| 09/11/2019 | 15:00 | Nottingham Forest v Derby County |
| 23/11/2019 | 15:00 | Bristol City v Nottingham Forest |
| 27/11/2019 | 19:45 | Queens Park Rangers v Nottingham Forest |
| 30/11/2019 | 15:00 | Nottingham Forest v Cardiff City |
| 07/12/2019 | 15:00 | Millwall v Nottingham Forest |
| 10/12/2019 | 19:45 | Nottingham Forest v Middlesbrough |
| 14/12/2019 | 15:00 | Nottingham Forest v Sheffield Wednesday |
| 21/12/2019 | 15:00 | Huddersfield Town v Nottingham Forest |
| 26/12/2019 | 15:00 | Hull City v Nottingham Forest |
| 29/12/2019 | 15:00 | Nottingham Forest v Wigan Athletic |
| 01/01/2020 | 15:00 | Nottingham Forest v Blackburn Rovers |
| 11/01/2020 | 15:00 | Reading v Nottingham Forest |
| 18/01/2020 | 15:00 | Nottingham Forest v Luton Town |
| 25/01/2020 | 15:00 | Brentford v Nottingham Forest |
| 01/02/2020 | 15:00 | Birmingham City v Nottingham Forest |
| 08/02/2020 | 15:00 | Nottingham Forest v Leeds United |
| 11/02/2020 | 19:45 | Nottingham Forest v Charlton Athletic |
| 15/02/2020 | 15:00 | West Bromwich Albion v Nottingham Forest |
| 22/02/2020 | 15:00 | Nottingham Forest v Queens Park Rangers |
| 25/02/2020 | 19:45 | Cardiff City v Nottingham Forest |
| 29/02/2020 | 15:00 | Middlesbrough v Nottingham Forest |
| 07/03/2020 | 15:00 | Nottingham Forest v Millwall |
| 14/03/2020 | 15:00 | Sheffield Wednesday v Nottingham Forest |
| 18/03/2020 | 19:45 | Nottingham Forest v Huddersfield Town |
| 21/03/2020 | 15:00 | Nottingham Forest v Bristol City |
| 04/04/2020 | 15:00 | Derby County v Nottingham Forest |
| 10/04/2020 | 15:00 | Nottingham Forest v Fulham |
| 13/04/2020 | 15:00 | Preston North End v Nottingham Forest |
| 18/04/2020 | 15:00 | Nottingham Forest v Swansea City |
| 25/04/2020 | 15:00 | Barnsley v Nottingham Forest |
| 02/05/2020 | 12:30 | Nottingham Forest v Stoke City |
Return to top
---
Preston North End
---
| Date | Time | Match |
| --- | --- | --- |
| 03/08/2019 | 15:00 | Millwall v Preston North End |
| 10/08/2019 | 15:00 | Preston North End v Wigan Athletic |
| 17/08/2019 | 15:00 | Swansea City v Preston North End |
| 21/08/2019 | 19:45 | Preston North End v Stoke City |
| 24/08/2019 | 15:00 | Preston North End v Sheffield Wednesday |
| 31/08/2019 | 15:00 | Nottingham Forest v Preston North End |
| 14/09/2019 | 15:00 | Preston North End v Brentford |
| 21/09/2019 | 15:00 | Birmingham City v Preston North End |
| 28/09/2019 | 15:00 | Preston North End v Bristol City |
| 01/10/2019 | 19:45 | Middlesbrough v Preston North End |
| 05/10/2019 | 15:00 | Preston North End v Barnsley |
| 19/10/2019 | 15:00 | Reading v Preston North End |
| 23/10/2019 | 19:45 | Preston North End v Leeds United |
| 26/10/2019 | 15:00 | Preston North End v Blackburn Rovers |
| 02/11/2019 | 15:00 | Charlton Athletic v Preston North End |
| 09/11/2019 | 15:00 | Preston North End v Huddersfield Town |
| 23/11/2019 | 15:00 | Derby County v Preston North End |
| 27/11/2019 | 19:45 | Hull City v Preston North End |
| 30/11/2019 | 15:00 | Preston North End v West Bromwich Albion |
| 07/12/2019 | 15:00 | Queens Park Rangers v Preston North End |
| 10/12/2019 | 19:45 | Preston North End v Fulham |
| 14/12/2019 | 15:00 | Preston North End v Luton Town |
| 21/12/2019 | 15:00 | Cardiff City v Preston North End |
| 26/12/2019 | 15:00 | Leeds United v Preston North End |
| 29/12/2019 | 15:00 | Preston North End v Reading |
| 01/01/2020 | 15:00 | Preston North End v Middlesbrough |
| 11/01/2020 | 15:00 | Blackburn Rovers v Preston North End |
| 18/01/2020 | 15:00 | Preston North End v Charlton Athletic |
| 25/01/2020 | 15:00 | Barnsley v Preston North End |
| 01/02/2020 | 15:00 | Preston North End v Swansea City |
| 08/02/2020 | 15:00 | Wigan Athletic v Preston North End |
| 12/02/2020 | 20:00 | Stoke City v Preston North End |
| 15/02/2020 | 15:00 | Preston North End v Millwall |
| 22/02/2020 | 15:00 | Preston North End v Hull City |
| 25/02/2020 | 20:00 | West Bromwich Albion v Preston North End |
| 29/02/2020 | 15:00 | Fulham v Preston North End |
| 07/03/2020 | 15:00 | Preston North End v Queens Park Rangers |
| 14/03/2020 | 15:00 | Luton Town v Preston North End |
| 17/03/2020 | 19:45 | Preston North End v Cardiff City |
| 21/03/2020 | 15:00 | Preston North End v Derby County |
| 04/04/2020 | 15:00 | Huddersfield Town v Preston North End |
| 10/04/2020 | 15:00 | Sheffield Wednesday v Preston North End |
| 13/04/2020 | 15:00 | Preston North End v Nottingham Forest |
| 18/04/2020 | 15:00 | Brentford v Preston North End |
| 25/04/2020 | 15:00 | Preston North End v Birmingham City |
| 02/05/2020 | 12:30 | Bristol City v Preston North End |
Return to top
---
Queens Park Rangers
---
| Date | Time | Match |
| --- | --- | --- |
| 03/08/2019 | 15:00 | Stoke City v Queens Park Rangers |
| 10/08/2019 | 15:00 | Queens Park Rangers v Huddersfield Town |
| 17/08/2019 | 15:00 | Bristol City v Queens Park Rangers |
| 21/08/2019 | 19:45 | Queens Park Rangers v Swansea City |
| 24/08/2019 | 15:00 | Queens Park Rangers v Wigan Athletic |
| 31/08/2019 | 15:00 | Sheffield Wednesday v Queens Park Rangers |
| 14/09/2019 | 15:00 | Queens Park Rangers v Luton Town |
| 21/09/2019 | 15:00 | Millwall v Queens Park Rangers |
| 28/09/2019 | 15:00 | Queens Park Rangers v West Bromwich Albion |
| 02/10/2019 | 19:45 | Cardiff City v Queens Park Rangers |
| 05/10/2019 | 15:00 | Queens Park Rangers v Blackburn Rovers |
| 19/10/2019 | 15:00 | Hull City v Queens Park Rangers |
| 22/10/2019 | 19:45 | Queens Park Rangers v Reading |
| 26/10/2019 | 15:00 | Queens Park Rangers v Brentford |
| 02/11/2019 | 15:00 | Leeds United v Queens Park Rangers |
| 09/11/2019 | 15:00 | Queens Park Rangers v Middlesbrough |
| 23/11/2019 | 15:00 | Fulham v Queens Park Rangers |
| 27/11/2019 | 19:45 | Queens Park Rangers v Nottingham Forest |
| 30/11/2019 | 15:00 | Derby County v Queens Park Rangers |
| 07/12/2019 | 15:00 | Queens Park Rangers v Preston North End |
| 11/12/2019 | 19:45 | Birmingham City v Queens Park Rangers |
| 14/12/2019 | 15:00 | Barnsley v Queens Park Rangers |
| 21/12/2019 | 15:00 | Queens Park Rangers v Charlton Athletic |
| 26/12/2019 | 15:00 | Reading v Queens Park Rangers |
| 29/12/2019 | 15:00 | Queens Park Rangers v Hull City |
| 01/01/2020 | 15:00 | Queens Park Rangers v Cardiff City |
| 11/01/2020 | 15:00 | Brentford v Queens Park Rangers |
| 18/01/2020 | 15:00 | Queens Park Rangers v Leeds United |
| 25/01/2020 | 15:00 | Blackburn Rovers v Queens Park Rangers |
| 01/02/2020 | 15:00 | Queens Park Rangers v Bristol City |
| 08/02/2020 | 15:00 | Huddersfield Town v Queens Park Rangers |
| 11/02/2020 | 19:45 | Swansea City v Queens Park Rangers |
| 15/02/2020 | 15:00 | Queens Park Rangers v Stoke City |
| 22/02/2020 | 15:00 | Nottingham Forest v Queens Park Rangers |
| 25/02/2020 | 19:45 | Queens Park Rangers v Derby County |
| 29/02/2020 | 15:00 | Queens Park Rangers v Birmingham City |
| 07/03/2020 | 15:00 | Preston North End v Queens Park Rangers |
| 14/03/2020 | 15:00 | Queens Park Rangers v Barnsley |
| 17/03/2020 | 19:45 | Charlton Athletic v Queens Park Rangers |
| 21/03/2020 | 15:00 | Queens Park Rangers v Fulham |
| 04/04/2020 | 15:00 | Middlesbrough v Queens Park Rangers |
| 10/04/2020 | 15:00 | Wigan Athletic v Queens Park Rangers |
| 13/04/2020 | 15:00 | Queens Park Rangers v Sheffield Wednesday |
| 18/04/2020 | 15:00 | Luton Town v Queens Park Rangers |
| 25/04/2020 | 15:00 | Queens Park Rangers v Millwall |
| 02/05/2020 | 12:30 | West Bromwich Albion v Queens Park Rangers |
Return to top
---
Reading
---
| Date | Time | Match |
| --- | --- | --- |
| 03/08/2019 | 15:00 | Reading v Sheffield Wednesday |
| 10/08/2019 | 15:00 | Hull City v Reading |
| 17/08/2019 | 15:00 | Reading v Cardiff City |
| 21/08/2019 | 20:00 | West Bromwich Albion v Reading |
| 24/08/2019 | 15:00 | Huddersfield Town v Reading |
| 31/08/2019 | 15:00 | Reading v Charlton Athletic |
| 14/09/2019 | 15:00 | Middlesbrough v Reading |
| 21/09/2019 | 15:00 | Reading v Blackburn Rovers |
| 28/09/2019 | 15:00 | Swansea City v Reading |
| 01/10/2019 | 20:00 | Reading v Fulham |
| 05/10/2019 | 15:00 | Bristol City v Reading |
| 19/10/2019 | 15:00 | Reading v Preston North End |
| 22/10/2019 | 19:45 | Queens Park Rangers v Reading |
| 26/10/2019 | 15:00 | Nottingham Forest v Reading |
| 02/11/2019 | 15:00 | Reading v Millwall |
| 09/11/2019 | 15:00 | Reading v Luton Town |
| 23/11/2019 | 15:00 | Brentford v Reading |
| 26/11/2019 | 20:00 | Reading v Leeds United |
| 30/11/2019 | 15:00 | Wigan Athletic v Reading |
| 07/12/2019 | 15:00 | Reading v Birmingham City |
| 11/12/2019 | 19:45 | Barnsley v Reading |
| 14/12/2019 | 15:00 | Stoke City v Reading |
| 21/12/2019 | 15:00 | Reading v Derby County |
| 26/12/2019 | 15:00 | Reading v Queens Park Rangers |
| 29/12/2019 | 15:00 | Preston North End v Reading |
| 01/01/2020 | 15:00 | Fulham v Reading |
| 11/01/2020 | 15:00 | Reading v Nottingham Forest |
| 18/01/2020 | 15:00 | Millwall v Reading |
| 25/01/2020 | 15:00 | Reading v Bristol City |
| 01/02/2020 | 15:00 | Cardiff City v Reading |
| 08/02/2020 | 15:00 | Reading v Hull City |
| 12/02/2020 | 20:00 | Reading v West Bromwich Albion |
| 15/02/2020 | 15:00 | Sheffield Wednesday v Reading |
| 22/02/2020 | 15:00 | Leeds United v Reading |
| 26/02/2020 | 20:00 | Reading v Wigan Athletic |
| 29/02/2020 | 15:00 | Reading v Barnsley |
| 07/03/2020 | 15:00 | Birmingham City v Reading |
| 14/03/2020 | 15:00 | Reading v Stoke City |
| 17/03/2020 | 19:45 | Derby County v Reading |
| 21/03/2020 | 15:00 | Reading v Brentford |
| 04/04/2020 | 15:00 | Luton Town v Reading |
| 10/04/2020 | 15:00 | Reading v Huddersfield Town |
| 13/04/2020 | 15:00 | Charlton Athletic v Reading |
| 18/04/2020 | 15:00 | Reading v Middlesbrough |
| 25/04/2020 | 15:00 | Blackburn Rovers v Reading |
| 02/05/2020 | 12:30 | Reading v Swansea City |
Return to top
---
Sheffield Wednesday
---
| Date | Time | Match |
| --- | --- | --- |
| 03/08/2019 | 15:00 | Reading v Sheffield Wednesday |
| 10/08/2019 | 15:00 | Sheffield Wednesday v Barnsley |
| 17/08/2019 | 15:00 | Millwall v Sheffield Wednesday |
| 20/08/2019 | 19:45 | Sheffield Wednesday v Luton Town |
| 24/08/2019 | 15:00 | Preston North End v Sheffield Wednesday |
| 31/08/2019 | 15:00 | Sheffield Wednesday v Queens Park Rangers |
| 14/09/2019 | 15:00 | Huddersfield Town v Sheffield Wednesday |
| 21/09/2019 | 15:00 | Sheffield Wednesday v Fulham |
| 28/09/2019 | 15:00 | Middlesbrough v Sheffield Wednesday |
| 01/10/2019 | 19:45 | Hull City v Sheffield Wednesday |
| 05/10/2019 | 15:00 | Sheffield Wednesday v Wigan Athletic |
| 19/10/2019 | 15:00 | Cardiff City v Sheffield Wednesday |
| 22/10/2019 | 19:45 | Sheffield Wednesday v Stoke City |
| 26/10/2019 | 15:00 | Sheffield Wednesday v Leeds United |
| 02/11/2019 | 15:00 | Blackburn Rovers v Sheffield Wednesday |
| 09/11/2019 | 15:00 | Sheffield Wednesday v Swansea City |
| 23/11/2019 | 15:00 | West Bromwich Albion v Sheffield Wednesday |
| 27/11/2019 | 19:45 | Sheffield Wednesday v Birmingham City |
| 30/11/2019 | 15:00 | Charlton Athletic v Sheffield Wednesday |
| 07/12/2019 | 15:00 | Sheffield Wednesday v Brentford |
| 11/12/2019 | 19:45 | Derby County v Sheffield Wednesday |
| 14/12/2019 | 15:00 | Nottingham Forest v Sheffield Wednesday |
| 21/12/2019 | 15:00 | Sheffield Wednesday v Bristol City |
| 26/12/2019 | 15:00 | Stoke City v Sheffield Wednesday |
| 29/12/2019 | 15:00 | Sheffield Wednesday v Cardiff City |
| 01/01/2020 | 15:00 | Sheffield Wednesday v Hull City |
| 11/01/2020 | 15:00 | Leeds United v Sheffield Wednesday |
| 18/01/2020 | 15:00 | Sheffield Wednesday v Blackburn Rovers |
| 25/01/2020 | 15:00 | Wigan Athletic v Sheffield Wednesday |
| 01/02/2020 | 15:00 | Sheffield Wednesday v Millwall |
| 08/02/2020 | 15:00 | Barnsley v Sheffield Wednesday |
| 12/02/2020 | 19:45 | Luton Town v Sheffield Wednesday |
| 15/02/2020 | 15:00 | Sheffield Wednesday v Reading |
| 22/02/2020 | 15:00 | Birmingham City v Sheffield Wednesday |
| 26/02/2020 | 19:45 | Sheffield Wednesday v Charlton Athletic |
| 29/02/2020 | 15:00 | Sheffield Wednesday v Derby County |
| 07/03/2020 | 15:00 | Brentford v Sheffield Wednesday |
| 14/03/2020 | 15:00 | Sheffield Wednesday v Nottingham Forest |
| 17/03/2020 | 19:45 | Bristol City v Sheffield Wednesday |
| 21/03/2020 | 15:00 | Sheffield Wednesday v West Bromwich Albion |
| 04/04/2020 | 15:00 | Swansea City v Sheffield Wednesday |
| 10/04/2020 | 15:00 | Sheffield Wednesday v Preston North End |
| 13/04/2020 | 15:00 | Queens Park Rangers v Sheffield Wednesday |
| 18/04/2020 | 15:00 | Sheffield Wednesday v Huddersfield Town |
| 25/04/2020 | 15:00 | Fulham v Sheffield Wednesday |
| 02/05/2020 | 12:30 | Sheffield Wednesday v Middlesbrough |
Return to top
---
Stoke City
---
| Date | Time | Match |
| --- | --- | --- |
| 03/08/2019 | 15:00 | Stoke City v Queens Park Rangers |
| 10/08/2019 | 15:00 | Charlton Athletic v Stoke City |
| 17/08/2019 | 15:00 | Stoke City v Derby County |
| 21/08/2019 | 19:45 | Preston North End v Stoke City |
| 24/08/2019 | 15:00 | Stoke City v Leeds United |
| 31/08/2019 | 15:00 | Birmingham City v Stoke City |
| 14/09/2019 | 15:00 | Stoke City v Bristol City |
| 21/09/2019 | 15:00 | Brentford v Stoke City |
| 28/09/2019 | 15:00 | Stoke City v Nottingham Forest |
| 01/10/2019 | 20:00 | Stoke City v Huddersfield Town |
| 05/10/2019 | 15:00 | Swansea City v Stoke City |
| 19/10/2019 | 15:00 | Stoke City v Fulham |
| 22/10/2019 | 19:45 | Sheffield Wednesday v Stoke City |
| 26/10/2019 | 15:00 | Millwall v Stoke City |
| 02/11/2019 | 15:00 | Stoke City v West Bromwich Albion |
| 09/11/2019 | 15:00 | Barnsley v Stoke City |
| 23/11/2019 | 15:00 | Stoke City v Wigan Athletic |
| 26/11/2019 | 19:45 | Cardiff City v Stoke City |
| 30/11/2019 | 15:00 | Stoke City v Blackburn Rovers |
| 07/12/2019 | 15:00 | Hull City v Stoke City |
| 10/12/2019 | 20:00 | Stoke City v Luton Town |
| 14/12/2019 | 15:00 | Stoke City v Reading |
| 21/12/2019 | 15:00 | Middlesbrough v Stoke City |
| 26/12/2019 | 15:00 | Stoke City v Sheffield Wednesday |
| 29/12/2019 | 15:00 | Fulham v Stoke City |
| 01/01/2020 | 15:00 | Huddersfield Town v Stoke City |
| 11/01/2020 | 15:00 | Stoke City v Millwall |
| 18/01/2020 | 15:00 | West Bromwich Albion v Stoke City |
| 25/01/2020 | 15:00 | Stoke City v Swansea City |
| 01/02/2020 | 15:00 | Derby County v Stoke City |
| 08/02/2020 | 15:00 | Stoke City v Charlton Athletic |
| 12/02/2020 | 20:00 | Stoke City v Preston North End |
| 15/02/2020 | 15:00 | Queens Park Rangers v Stoke City |
| 22/02/2020 | 15:00 | Stoke City v Cardiff City |
| 26/02/2020 | 19:45 | Blackburn Rovers v Stoke City |
| 29/02/2020 | 15:00 | Luton Town v Stoke City |
| 07/03/2020 | 15:00 | Stoke City v Hull City |
| 14/03/2020 | 15:00 | Reading v Stoke City |
| 18/03/2020 | 20:00 | Stoke City v Middlesbrough |
| 21/03/2020 | 15:00 | Wigan Athletic v Stoke City |
| 04/04/2020 | 15:00 | Stoke City v Barnsley |
| 10/04/2020 | 15:00 | Leeds United v Stoke City |
| 13/04/2020 | 15:00 | Stoke City v Birmingham City |
| 18/04/2020 | 15:00 | Bristol City v Stoke City |
| 25/04/2020 | 15:00 | Stoke City v Brentford |
| 02/05/2020 | 12:30 | Nottingham Forest v Stoke City |
Return to top
---
Swansea City
---
| Date | Time | Match |
| --- | --- | --- |
| 03/08/2019 | 15:00 | Swansea City v Hull City |
| 10/08/2019 | 15:00 | Derby County v Swansea City |
| 17/08/2019 | 15:00 | Swansea City v Preston North End |
| 21/08/2019 | 19:45 | Queens Park Rangers v Swansea City |
| 24/08/2019 | 15:00 | Swansea City v Birmingham City |
| 31/08/2019 | 15:00 | Leeds United v Swansea City |
| 14/09/2019 | 15:00 | Swansea City v Nottingham Forest |
| 21/09/2019 | 15:00 | Bristol City v Swansea City |
| 28/09/2019 | 15:00 | Swansea City v Reading |
| 02/10/2019 | 19:45 | Charlton Athletic v Swansea City |
| 05/10/2019 | 15:00 | Swansea City v Stoke City |
| 19/10/2019 | 15:00 | Barnsley v Swansea City |
| 22/10/2019 | 19:45 | Swansea City v Brentford |
| 26/10/2019 | 15:00 | Swansea City v Cardiff City |
| 02/11/2019 | 15:00 | Wigan Athletic v Swansea City |
| 09/11/2019 | 15:00 | Sheffield Wednesday v Swansea City |
| 23/11/2019 | 15:00 | Swansea City v Millwall |
| 26/11/2019 | 19:45 | Huddersfield Town v Swansea City |
| 30/11/2019 | 15:00 | Swansea City v Fulham |
| 07/12/2019 | 15:00 | West Bromwich Albion v Swansea City |
| 11/12/2019 | 19:45 | Swansea City v Blackburn Rovers |
| 14/12/2019 | 15:00 | Swansea City v Middlesbrough |
| 21/12/2019 | 15:00 | Luton Town v Swansea City |
| 26/12/2019 | 15:00 | Brentford v Swansea City |
| 29/12/2019 | 15:00 | Swansea City v Barnsley |
| 01/01/2020 | 15:00 | Swansea City v Charlton Athletic |
| 11/01/2020 | 15:00 | Cardiff City v Swansea City |
| 18/01/2020 | 15:00 | Swansea City v Wigan Athletic |
| 25/01/2020 | 15:00 | Stoke City v Swansea City |
| 01/02/2020 | 15:00 | Preston North End v Swansea City |
| 08/02/2020 | 15:00 | Swansea City v Derby County |
| 11/02/2020 | 19:45 | Swansea City v Queens Park Rangers |
| 15/02/2020 | 15:00 | Hull City v Swansea City |
| 22/02/2020 | 15:00 | Swansea City v Huddersfield Town |
| 25/02/2020 | 19:45 | Fulham v Swansea City |
| 29/02/2020 | 15:00 | Blackburn Rovers v Swansea City |
| 07/03/2020 | 15:00 | Swansea City v West Bromwich Albion |
| 14/03/2020 | 15:00 | Middlesbrough v Swansea City |
| 18/03/2020 | 19:45 | Swansea City v Luton Town |
| 21/03/2020 | 15:00 | Millwall v Swansea City |
| 04/04/2020 | 15:00 | Swansea City v Sheffield Wednesday |
| 10/04/2020 | 15:00 | Birmingham City v Swansea City |
| 13/04/2020 | 15:00 | Swansea City v Leeds United |
| 18/04/2020 | 15:00 | Nottingham Forest v Swansea City |
| 25/04/2020 | 15:00 | Swansea City v Bristol City |
| 02/05/2020 | 12:30 | Reading v Swansea City |
Return to top
---
West Brom
---
| Date | Time | Match |
| --- | --- | --- |
| 03/08/2019 | 17:30 | Nottingham Forest v West Bromwich Albion |
| 10/08/2019 | 15:00 | West Bromwich Albion v Millwall |
| 17/08/2019 | 15:00 | Luton Town v West Bromwich Albion |
| 21/08/2019 | 20:00 | West Bromwich Albion v Reading |
| 24/08/2019 | 15:00 | Derby County v West Bromwich Albion |
| 31/08/2019 | 15:00 | West Bromwich Albion v Blackburn Rovers |
| 14/09/2019 | 15:00 | Fulham v West Bromwich Albion |
| 21/09/2019 | 15:00 | West Bromwich Albion v Huddersfield Town |
| 28/09/2019 | 15:00 | Queens Park Rangers v West Bromwich Albion |
| 01/10/2019 | 19:45 | Leeds United v West Bromwich Albion |
| 05/10/2019 | 15:00 | West Bromwich Albion v Cardiff City |
| 19/10/2019 | 15:00 | Middlesbrough v West Bromwich Albion |
| 22/10/2019 | 20:00 | West Bromwich Albion v Barnsley |
| 26/10/2019 | 15:00 | West Bromwich Albion v Charlton Athletic |
| 02/11/2019 | 15:00 | Stoke City v West Bromwich Albion |
| 09/11/2019 | 15:00 | Hull City v West Bromwich Albion |
| 23/11/2019 | 15:00 | West Bromwich Albion v Sheffield Wednesday |
| 27/11/2019 | 20:00 | West Bromwich Albion v Bristol City |
| 30/11/2019 | 15:00 | Preston North End v West Bromwich Albion |
| 07/12/2019 | 15:00 | West Bromwich Albion v Swansea City |
| 11/12/2019 | 19:45 | Wigan Athletic v West Bromwich Albion |
| 14/12/2019 | 15:00 | Birmingham City v West Bromwich Albion |
| 21/12/2019 | 15:00 | West Bromwich Albion v Brentford |
| 26/12/2019 | 15:00 | Barnsley v West Bromwich Albion |
| 29/12/2019 | 15:00 | West Bromwich Albion v Middlesbrough |
| 01/01/2020 | 15:00 | West Bromwich Albion v Leeds United |
| 11/01/2020 | 15:00 | Charlton Athletic v West Bromwich Albion |
| 18/01/2020 | 15:00 | West Bromwich Albion v Stoke City |
| 25/01/2020 | 15:00 | Cardiff City v West Bromwich Albion |
| 01/02/2020 | 15:00 | West Bromwich Albion v Luton Town |
| 08/02/2020 | 15:00 | Millwall v West Bromwich Albion |
| 12/02/2020 | 20:00 | Reading v West Bromwich Albion |
| 15/02/2020 | 15:00 | West Bromwich Albion v Nottingham Forest |
| 22/02/2020 | 15:00 | Bristol City v West Bromwich Albion |
| 25/02/2020 | 20:00 | West Bromwich Albion v Preston North End |
| 29/02/2020 | 15:00 | West Bromwich Albion v Wigan Athletic |
| 07/03/2020 | 15:00 | Swansea City v West Bromwich Albion |
| 14/03/2020 | 15:00 | West Bromwich Albion v Birmingham City |
| 17/03/2020 | 19:45 | Brentford v West Bromwich Albion |
| 21/03/2020 | 15:00 | Sheffield Wednesday v West Bromwich Albion |
| 04/04/2020 | 15:00 | West Bromwich Albion v Hull City |
| 10/04/2020 | 15:00 | West Bromwich Albion v Derby County |
| 13/04/2020 | 15:00 | Blackburn Rovers v West Bromwich Albion |
| 18/04/2020 | 15:00 | West Bromwich Albion v Fulham |
| 25/04/2020 | 15:00 | Huddersfield Town v West Bromwich Albion |
| 02/05/2020 | 12:30 | West Bromwich Albion v Queens Park Rangers |
Return to top
---
Wigan Athletic
---
| Date | Time | Match |
| --- | --- | --- |
| 03/08/2019 | 15:00 | Wigan Athletic v Cardiff City |
| 10/08/2019 | 15:00 | Preston North End v Wigan Athletic |
| 17/08/2019 | 15:00 | Wigan Athletic v Leeds United |
| 20/08/2019 | 19:45 | Middlesbrough v Wigan Athletic |
| 24/08/2019 | 15:00 | Queens Park Rangers v Wigan Athletic |
| 31/08/2019 | 15:00 | Wigan Athletic v Barnsley |
| 14/09/2019 | 15:00 | Hull City v Wigan Athletic |
| 21/09/2019 | 15:00 | Wigan Athletic v Charlton Athletic |
| 28/09/2019 | 15:00 | Fulham v Wigan Athletic |
| 01/10/2019 | 19:45 | Wigan Athletic v Birmingham City |
| 05/10/2019 | 15:00 | Sheffield Wednesday v Wigan Athletic |
| 19/10/2019 | 15:00 | Wigan Athletic v Nottingham Forest |
| 23/10/2019 | 19:45 | Derby County v Wigan Athletic |
| 26/10/2019 | 15:00 | Bristol City v Wigan Athletic |
| 02/11/2019 | 15:00 | Wigan Athletic v Swansea City |
| 09/11/2019 | 15:00 | Wigan Athletic v Brentford |
| 23/11/2019 | 15:00 | Stoke City v Wigan Athletic |
| 26/11/2019 | 19:45 | Millwall v Wigan Athletic |
| 30/11/2019 | 15:00 | Wigan Athletic v Reading |
| 07/12/2019 | 15:00 | Luton Town v Wigan Athletic |
| 11/12/2019 | 19:45 | Wigan Athletic v West Bromwich Albion |
| 14/12/2019 | 15:00 | Wigan Athletic v Huddersfield Town |
| 21/12/2019 | 15:00 | Blackburn Rovers v Wigan Athletic |
| 26/12/2019 | 15:00 | Wigan Athletic v Derby County |
| 29/12/2019 | 15:00 | Nottingham Forest v Wigan Athletic |
| 01/01/2020 | 15:00 | Birmingham City v Wigan Athletic |
| 11/01/2020 | 15:00 | Wigan Athletic v Bristol City |
| 18/01/2020 | 15:00 | Swansea City v Wigan Athletic |
| 25/01/2020 | 15:00 | Wigan Athletic v Sheffield Wednesday |
| 01/02/2020 | 15:00 | Leeds United v Wigan Athletic |
| 08/02/2020 | 15:00 | Wigan Athletic v Preston North End |
| 11/02/2020 | 19:45 | Wigan Athletic v Middlesbrough |
| 15/02/2020 | 15:00 | Cardiff City v Wigan Athletic |
| 22/02/2020 | 15:00 | Wigan Athletic v Millwall |
| 26/02/2020 | 20:00 | Reading v Wigan Athletic |
| 29/02/2020 | 15:00 | West Bromwich Albion v Wigan Athletic |
| 07/03/2020 | 15:00 | Wigan Athletic v Luton Town |
| 14/03/2020 | 15:00 | Huddersfield Town v Wigan Athletic |
| 18/03/2020 | 19:45 | Wigan Athletic v Blackburn Rovers |
| 21/03/2020 | 15:00 | Wigan Athletic v Stoke City |
| 04/04/2020 | 15:00 | Brentford v Wigan Athletic |
| 10/04/2020 | 15:00 | Wigan Athletic v Queens Park Rangers |
| 13/04/2020 | 15:00 | Barnsley v Wigan Athletic |
| 18/04/2020 | 15:00 | Wigan Athletic v Hull City |
| 25/04/2020 | 15:00 | Charlton Athletic v Wigan Athletic |
| 02/05/2020 | 12:30 | Wigan Athletic v Fulham |
Return to top