Premier League
'Cantona was the biggest revolutionary in the Premier League' - Cox credits foreign influence with changing English football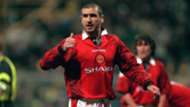 Tactics expert Michael Cox has credited Eric Cantona as the biggest foreign influence on the Premier League.
Zonal Marking's Cox has released a new book chronicling the tactical changes throughout Premier League history, and spoke to Goal about the evolution of tactics in the English top flight.
Cox believes Cantona was a literal gamechanger for the league, telling Goal: "Probably the biggest revolutionary in the Premier League was Eric Cantona when he joined Manchester United.
"He just changed the way they played football. They used to be very 4-4-2, playing wide, getting crosses into the box. When Cantona played that deep-lying forward role, it encouraged United to play through the centre of the pitch. Everyone then wanted their own Cantona."
The Mixer - Michael Cox's story of Premier League tactics from Route Ones to False Nines is out June 1 priced £16.99.