KPL
Bishop Njenga, Mukumu set eyes on the big prize ahead of Chapa Dimba finals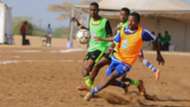 Mukumu Boys and Bishop Njenga Girls have all set their eyes on the big prize, a trip to London after they stormed the grand finale of the Chapa Dimba Na Safaricom tournament set for March.
The two teams grabbed the Western regional titles over the weekend with Mukumu Boys seeing off Lugari Blue Saints following a 2-0 scoreline while Bishop Njega beat Shinyalu 1-0 in a thrilling girls' final.
The winners received a cash reward of Sh200,000 each and will now represent Western region in the national finals scheduled for 24th and 25th March.
"Our win today is a dream come true and we will never stop fighting until the very end. Our focus is in London and the national finals' prize money," said Mukumu Boys coach Patrick Baraza.
Bishop Njenga Captain, Violet Wanyonyi added: "It's a good feeling to win against a tough team in a tough match.  Our opponents are known giants in this region and this is a proof of good training. We look forward to going to the football clinic in London after winning the national finals."
Bishop Njenga and Mukumu joined Rift Valley region winners, Kapenguria Heroes and Tar-Tar Girls, Mwingi Junior Academy and Ngakaa Talent Academy (Eastern), Ombek Red Devils and Plateau Queens (Nyanza) Shimba Hills and Waa Girls-(Coast) as well as Al-Hayat FC representing North Eastern region on the national final.
Central and Nairobi regions will also hold their regional finals in the next few weeks.
At the grand finale, the winning team will walk away with Sh1 million each and an opportunity to go for an international training and mentorship camp in London in April 2018.
The teams will also have an opportunity to mingle with Tottenham midfielder and tournament's brand ambassador, Victor Wanyama during the London tour.