Bima Sakti
Bima Sakti: Singapore are a good side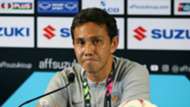 Bima Sakti believed his young charges could not handle the mental pressure of their big game clash against Singapore.
"Maybe my players were not ready from a physical standpoint and I take responsibility for our team's loss," said Bima at the post-match press conference.
However Singapore's style of play completely surprised Bima and he believes that Singapore is a good side.
"Singapore are a good side. They have good organisation and their transition from defence to attack is great which caused us problems."
"Singapore were also more aggressive and passionate."
On the other hand Bima believes that Indonesia will need to tweak their strategy moving forward especially in attack.
"We (Indonesia) will try a different form of attack which does not fully involve only the use of the wings. I will look into this matter at training and will see how we can improve and implement other strategies, especially in attack."