Australia
Why Bert van Marwijk can be a Socceroos success at the World Cup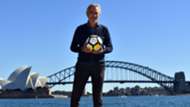 Bert van Marwijk's first and most recent game in charge of the Socceroos has left a lot to be desired heading into to the World Cup, but the Dutch coach should be backed to achieve some measure of success in Russia.
Brought in after Ange Postecoglou's departure, time has always been against van Marwijk to get Australia into shape for the World Cup and to his credit he's wasted little of it.
Though opting against a farewell match might not have been the most popular decision, it was the most pragmatic one - saving a large chunk of the squad unnecessary travel and ensuring a comprehensive camp in Turkey.
Those past three weeks in Antalya has seen the Socceroos whipped into shape with van Marwijk conceding his players were in fact tired against Hungary as a result.
Van Marwijk's critical assessment of Australia's performance in Budapest demonstrated the high standards he is setting for the team and the fact he won't take any backwards steps heading into the World Cup.
With a few rest days to come in Russia before a first game against France, the green and gold should be as fit as they've ever been and reaping the rewards of being together for just under a month. 
The Les Bleus loom as an ominous first hurdle for van Marwijk's men but are far from invincible after being held by the USA in their last hit out.
Coming in as a manager with no ties to the players and with no need to build long-term rapport, van Marwijk is in a unique position to pick purely on tactics.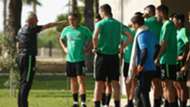 His decision to leave Socceroos skipper Mile Jedinak on the bench against Hungary showed his lack of sentimentality and a continued omission could well allow Australia's midfield greater freedom against the likes of Denmark and Peru.
Despite his conservative nature, van Marwijk has also shown the willingness to include Daniel Arzani in his World Cup squad, with the 19-year-old set to be the youngest player at the World Cup.
The Dutchman has already deployed Arzani to perfection too, with the winger scoring just 67 seconds after coming against Hungary. 
It's also worth noting that van Marwijk is a man on a mission in Russia and despite having no real connection with Australia, will be desperate to achieve some success.
Not only does he have a point to prove after parting ways with Saudi Arabia, a side he led to qualification for the World Cup, the Dutchman literally has his own money invested in the Socceroos.
It was revealed by the Sydney Morning Herald last week that van Marwijk is paying assistant coaches like Mark van Bommel out of his own pocket.
Literally putting his money behind the Socceroos' World Cup campaign, the motivation for van Marwijk simply can't be questioned with his career as a coach nearing an end.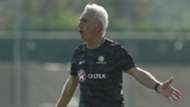 The 66-year-old will part ways with Australia after Russia and it's unclear whether he'll extend a 20-year coaching career that has shined at international level.
While leading the Netherlands to the 2010 World Cup final leads the list of his achievements in the national arena, his two-year tenure of Saudi Arabia is almost just as impressive. 
Van Marwijk lost just three of his 20 games in charge of the Green Falcons, that included a 2-2 draw with Australia and 1-0 win over Japan.
Though the Socceroos' World Cup campaign looms as a far sterner test of his coaching credentials, as far as short-term appointments go, it's hard to see anyone better than Bert van Marwijk. 
A coach potentially capable of doing just what Guus Hiddink did 12 years ago in Germany.