MTN8
Benni McCarthy: Cape Town City keeper Peter Leeuwenburgh was the difference in the MTN8 final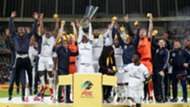 Cape Town City coach Benni McCarthy lauded his goalkeeper Peter Leeuwenburgh following their 2018 MTN8 triumph on Saturday.
The Citizens were crowned MTN8 champions after defeating SuperSport United 4-1 on penalties following a goalless stalemate at the Moses Mabhida Stadium in Durban.
City avenged the defeat to SuperSport in last year's MTN8 final at the same venue and after the game McCarthy praised Leeuwenburgh, who was the hero during the penalty shootout.
"I saw this picture in my head. Again complete dominance. Utter dominance from my time, but we just couldn't get it past Ronwen (Williams) and it looked like we are heading for exactly what happened last season," McCarthy told SuperSport TV.
The Dutch goalkeeper denied the SuperSport duo of Bradley Grobler and Reneilwe Letsholonyane from the spot-kick.
"But the good thing is this season we have a quality keeper who specialises in these things. I think compared to last season where we didn't have a man in the sticks to give us that advantage," he continued.
"I think these boys, I can go to the end of the earth with them. They will give me a heart attack soon. But they deserve it. They were magnificent," he added.
"I wanted them to be brave, to believe in themselves. I see their qualities every day. I wanted them to believe in themselves and when it becomes difficult or impossible that's when I wanted them to just push through the pain barriers and find that inner-self where they can play through the pain and its exactly what happened," McCarthy explained.
It is City's second major trophy having won the 2016 Telkom Knockout Cup after defeating SuperSport at the Peter Mokaba Stadium in Polokwane.
Meanwhile, SuperSport head coach Kaitano Tembo was unhappy with his side's decision marking following the final defeat.
"I think it was a bit difficult. It was a very tight game where we never really give too much. I think we had a few chances, a few breaks especially in the 90 minutes," Tembo told SuperSport TV. 
"But probably a lack of good decision-making especially in the final third then we could've sneaked one in there. Even them as well, there were times when they had a few breaks where they could have sneaked in one there. But at the same time, it was a game where it could've been decided by penalties because 120 minutes couldn't even separate the two teams," he continued.
"I think they were playing through, especially in midfield where they could find the striker, where our midfielders were not really screening the defence and protecting the defence and they could get a few second balls," Tembo explained.
However, the Zimbabwean tactician admitted that City deserved to win the lucrative competition.
 "There was a time where [Ayanda] Patosi got a few second balls and [Siphelele] Mthembu there was a time when he went through as well that could've been a goal. But I think we came back after that," he added.
"We created a few chances. We played effective football. We got into effective areas but poor decision-making let us down. But at the same time, credit should go to City, they played well. They had the better part of the possession, but we defended well as well. At the same time, you need to give it to them they deserve it," he concluded.