African All Stars
Bayern Munich youth star Wriedt chooses Ghana over Germany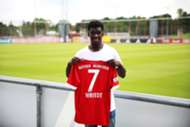 Bayern Munich youth striker Kwasi Okyere Wriedt says he is ready to represent Ghana on the international stage, amid the opportunity to play for Germany.
The 23-year-old was born in Germany to Ghanaian parents and has previously represented Die Mannschaft youth outfit but now wants to play for the Black Stars.
 "I made consultations with my parents and I think I'm more inclined to Ghana than Germany," Wriedt told SportsObama.
"I was born here in Germany and I have stayed here all my life but I see myself as a Kumasi (a city in Ghana) boy. I'm a Mampong blood so I'm choosing Ghana for my international duties.
"It will be a dream come true to represent Ghana because I have always wanted to be in Ghana jersey," he added.
Wriedt has been in a scintillating form this season with Bayern's reserve, netting 22 goals in 28 Bundesliga II games. He has also played with the senior side in the top-flight as well as in the DFB Pokal.