Cup
Baxter: My father said I wasn't good enough as a coach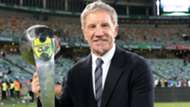 Stuart Baxter completed his SuperSport United tenure in style as he guided the Tshwane outfit to another Nedbank Cup crown on Saturday night.
The victory capped off what has been an impressive season for the Tshwane-based outfit, who still find themselves battling among the continent's best in the Caf Confederation Cup.
However, despite their success, Baxter believes that there are still elements of their game which they will need to improve on if they are to compete in the new season under Eric Tinkler.
"In every area that we have worked on' they can improve'" Baxter told the media.
"You never stand still in life. You either improve or get worse. If they stand still' everybody will be chasing them' they will get closer and pass them. You've got to keep moving forward. I think that turning a good season into a great season' you have to win things," said Baxter.
"They did that. We were on a great run (in the league)' playing well and then suddenly we hit a wall with a lot of injuries. I know that it sounds like excuses' but playing on the continent and domestically took a toll on us," Baxter added.
"We had 17 fit players at one stage and that was an enormous burden. People like Yeye (Reneilwe Letsholonyane)' who started the season on fire and finished the season on fire' had a little patch where he really needed a rest if we had a bigger squad. That little patch was enough to drop points and lose a little bit of confidence and by the time we got it back we were in fifth place. It could have been fourth in the last game but the energy wasn't in the tank. I certainly think that they can be better. Individuals are coming back into form. There is a lot more to come from the lads," Baxter said.
Meanwhile, with Baxter now moving on to take over national team on a full-time basis, he wants to be remembered as someone who earned his money at SuperSport.
"My father' God bless him' was the coach at Aston Villa'" Baxter said.
"I grew up at Aston Villa watching him work and when I got into coaching he used talk very harshly to me' saying that I wasn't good enough and I shouldn't be easily satisfied but keep working. He said to me when you leave a football club and you can turn and ask the chairman' did I earn every penny that you paid me and if the answer is yes' you've done okay. I would like to ask the chairman (Khulu Sibiya)' 'did I earn the money that you paid me?' And if he says yes then I am happy. That's how I would like to be remembered (at SuperSport)," Baxter concluded.