Manchester United
Bale, Griezmann, Lloris and Ibrahimovic make Neville's Man Utd dream team for 2017-18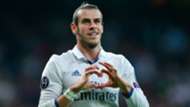 Phil Neville has got creative with his Manchester United dream team for 2017-18, with Gareth Bale, Antoine Griezmann and Hugo Lloris among those he would bring in.
The former Red Devils defender believes summer raids on Real Madrid, Atletico Madrid and Tottenham would help to bolster the ranks and cover the potential loss of David de Gea.
Mou: Better to come from Man Utd
Jose Mourinho is expected to spend big this summer, but it remains to be seen whether he gets enough backing to match Neville's ambition.
He has also suggested that Madrid centre-half Raphael Varane and Monaco duo Benjamin Mendy and Tiemoue Bakayoko would be welcome additions at Old Trafford, while offering fresh terms to Zlatan Ibrahimovic.
Neville admits he is just having "a bit of fun", which is just as well as his ideal starting XI would come at some considerable cost.
Antonio Valencia, Eric Bailly and £89 million man Paul Pogba are the only players to keep their respective places, with uncertainty still shrouding the future of Ibrahimovic.
Rooney future 'doesn't look good'
The Swedish striker has netted 28 times for the Red Devils this season, but has seen a cruciate ligament injury end his campaign before any extension was agreed to a 12-month contract.
If the 35-year-old is to move on, then Neville says he would select Marcus Rashford as his central striker.
Were Mourinho able to complete all of the deals suggested by a member of United's legendary 'Class of 92', then his side would be expected to avoid the goal-scoring struggles which have held them back at times this term.