Landon Donovan
Balboa: Leon is going to love Landon Donovan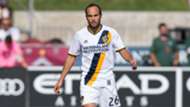 When Landon Donovan was weighing the decision to come out of retirement and join Liga MX side Club Leon, he reached out to a select number of people about the move. One of those people was a fellow American who made the same move more than two decades ago.
U.S. national team legend Marcelo Balboa spent a year playing for Leon, joining the club shortly after his successful showing at the 1994 World Cup.
"He asked me questions about Leon and I told him everything I knew, and a few days later it comes out that the president says its a done deal," Balboa told Goal. "It's a great club, an absolutely fantastic club. The fans are absolutely fantastic people. They accepted me, a guy who played for the United States, and they treated me well. I can see the appeal of why Leon wants him, and all those things."
Donovan's decision to come out of retirement to play in Mexico was seen as a surprise, to the point that it was thought to initially be just some publicity stunt or hoax. Now that it appears to be a very real return for the 35-year-old star, the question is whether he will be able to come out of retirement for a second time and play well enough to keep the move from becoming a disaster.
"It's not easy playing in Liga MX, he's definitely got his work cut out for him," Balboa said. "But since when have you seen Landon back off a challenge. I think all athletes love a challenge. He's [soon going to be] 36, it's going to be a challenge for him to get fit, it's going to be a challenge for everything, but I think it's a different chapter in his life and just chatting with him, and knowing how competitive he is, I think he's ready for it."
Balboa spent a year at Leon before being a part of Major League Soccer's launch in 1996 as a member of the Colorado Rapids. Fellow U.S. legend Eric Wynalda also had a brief stint with Leon, which counts U.S. national team goalkeeper William Yarbrough among its current players.
"I tried to get into Liga MX a long time before I got an opportunity after the 1994 World Cup," Balboa said. "I always thought it was an attractive league. I think it's a very, very competitive league. It fits the style that I wanted to play and then I played there and it was a perfect fit for me.
"I think there's a lot of players out there that would love the opportunity to go to Liga MX. Landon's just fortunate to be able to find it."
The brave don't live forever but the cautious do not live at all. I'm excited for this new adventure 😎⚽️🦁💚

— Landon Donovan (@landondonovan) January 13, 2018
Donovan made a career of frustrating Mexican fans with his exploits against El Tri, but the reality is he developed a strong following among Mexicans and was often mobbed by fans whenever he would travel to the nation for matches with the U.S. national team and LA Galaxy.
Balboa sees Donovan receiving that same sort of support from Leon fans, though not from the teams he will be facing in Liga MX.
"They're going to love Landon. The people in Leon are going to love Landon and the the people he plays against are going to hate him. That's just what it is," Balboa said. "When I played for the U.S. and Leon, and I got killed when I went to America or Toros Neza or Veracruz, people hated me because I was the American center back. The good thing is they all thought that I was (Alexi) Lalas so I didn't care.
"I think there was a time when (Donovan) was younger, and all the stuff that happened at Azteca, where Mexicans hated him. But they respect him."
While some view Donovan's decision to come out of retirement as a bad move, Balboa sees it as one that will prove successful for a player he feels still has something to give on the field.
"The guy retired at too young of an age to begin with," Balboa said.