Ligi kuu Bara
Azam FC goalie accepts first defeat in 1260 minutes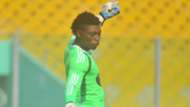 Young Africans handed Azam their first season loss after coming from behind to win 2-1 in a cautious League game on Saturday at Chamazi.
Abalora let the goal making his team lose the first match for the first time after playing for 1260 minutes in all the 14 matches of the first half of Ligi Kuu Bara.
The team lost to Yanga on Saturday at its home ground Chamazi after successfully winning all the other matches.
It is only Yanga which has defeated Azam in this first half  of the Ligi Kuu season.
The goalkeeper has now concede 6 goals in the league after 15 games.
Azam FC, Information officer Jaffar Iddi Maganga admitted to have lost the game, but said they are focusing on the next matches scheduled for the second and final half of the Ligi Kuu.