A-League
Australian coaches reveal the secrets to overseas success
Goal Australia Chief Editor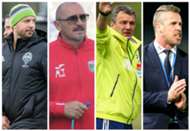 ---
EXCLUSIVE
---
Coaches forced abroad to pursue their career by Australia's limited professional opportunities argue working in another country can provide a broader education than the A-League, although it's not always respected back home.
This month's news that Newcastle Jets have turned to veteran coach Ernie Merrick and that Wellington Phoenix will appoint a European, has again underlined how difficult it can be to secure a full-time coaching gig in the A-League.
Ernie Merrick confirmed as Jets coach
Merrick is being given a third opportunity in Australia's sole professional competition, while it is widely expected that the other two clubs looking for head coaches - Adelaide United and Melbourne City - will follow the Phoenix's lead and recruit someone from abroad.
As five of the six coaches to keep their A-League jobs from last season played for the Socceroos, there is also a sense that having the right profile is vital to be given a shot.
The A-League bottleneck is leaving many aspiring local coaches with little choice other than to pack their bags.
Goal interviewed four Australian coaches that are working on three separate continents and not one regretted his decision to leave home.
Phoenix keep mum about new coach's identity
Former Socceroos defender Mehmet Durakovic - who had a spell in charge of Melbourne Victory from March 2011 to January 2012 - is in charge of Perak in the Malaysia Super League (MSL).
"[Working abroad] just opens up your mind. There's so much money, there's so much passion, there's so much sponsorship. It's really, really big business here," he said.
"Football is the number one sport here. You're dealing with presidents, you're dealing with big sponsors, you're dealing with royalty. In Australia, you don't deal with that."
'You wear many hats'
Perak is Durakovic's second job in Malaysia after a two-year stint with Selangor where he won the 2015 Malaysia Cup.
With most MSL clubs representing different states in the southeast Asian nation, clubs are often run by local politicians or sultans as a form of personal promotion.
Cornthwaite, Durakovic lift Malaysia Cup
Durakovic is much more involved in recruitment, player contracts and other off-field elements than he ever was at Victory.
"You're dealing with people, who are really too busy to worry about football. You have to take charge," the 51-year-old said.
"So basically, they just give you control of everything, so you have to respect that."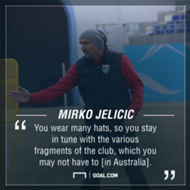 Mirko Jelicic, an Australian coach in charge of Lokomotiv Tashkent in Uzbekistan, has had similar experiences.
"Having to cover many roles within the club due to lack of expertise from support staff provides a much broader perspective of the day-to-day workings of a professional club," he said.
"You wear many hats, so it lets you stay in tune with the various fragments of the club, which you may not necessarily have to address or give much thought to [in Australia]."
Jelicic won the league-cup double with Lokomotiv last year and believes coaches must be tolerant, creative and flexible when working abroad, while the 52-year-old has learned to trust his in his own ability "because ultimately - as a foreigner - they will hold you accountable anyway".
Former Newcastle Jets boss Scott Miller, who now works as an assistant coach at Danish Superliga club AaB, believes football is much more cut-throat outside Australia.
Miller: A-League return only on my terms
"You don't get much time," he said.
"I've seen instances this year in the A-League - not to be critical - but these coaches wouldn't be here. They'd get a month in Europe and then be moved on very quickly."
'Australia's missed the second division boat'
With Durakovic having worked at Victory, Miller at Newcastle and Jelicic having been part of Perth Glory's staff in the NSL era, all four of Goal's interviewees have had professional experience in Australia but have had to head abroad to continue their careers.
Former Central Coast Mariners captain and assistant coach John Hutchinson is now with the reserve team of MLS outfit Seattle Sounders, which is known as S2.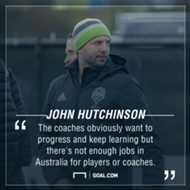 Hutchinson parted ways with the Mariners after they sacked former boss Tony Walmsley in the lead-up to the 2016-17 campaign in what was a tough ending to the former's 12-year association with the club.
While the ex-midfielder insists he wouldn't swap his current job for anything, he believes Australia "desperately" needs a professional second tier to retain promising players and coaches.
Former Mariners skipper lands American coaching job
"I think Australia's missed the boat a long time ago in implementing that," Hutchinson said.
"You know, you see a lot of players now leaving Australia, young players have to leave because there are just not enough jobs for them professionally, and they end up going overseas early and then they end up losing their way.
"It's the same with the coaching, isn't it? The coaches obviously want to progress and keep learning but there are not enough jobs in Australia for players or coaches.
"So in America they've got their stuff sorted. They've got this system underneath the MLS that runs really well. It's professional, it's full-time."
Hutchinson revealed that he had two offers to work with NPL clubs after leaving the Mariners but they couldn't compete once the Sounders' opportunity arose.
"As soon as they offered me the job, I literally answered 10 minutes later and accepted the job," the 37-year-old said.
"Seattle's GM called me and said 'we haven't even spoken about money etcetera' and I'm like 'I don't really care. I just want to work with full-time footballers again.' So we got that sorted straight away."
'I have never applied for a job anywhere'
While Hutchinson had to apply for his job as assistant to Ezra Hendrickson at S2, he only heard about the opportunity after he had visited the Sounders in 2016 thanks to a connection between a former Mariners colleague and Seattle's Director of Performance and Sport Science David Tenney.
The importance of a strong network to gaining employment is a common link between Hutchinson, Durakovic, Jelicic and Miller.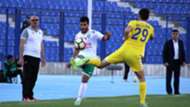 Mirko Jelicic, Lokomotiv Tashkent
Miller joined AaB late last year after being sacked by the Jets in September and claims many Australian coaches would struggle to find work abroad.
Prior to his one season in charge of Newcastle, Miller worked in various roles at Fulham.
"It's very easy to be a big fish in a smaller football community, and I think - ultimately - some people would enjoy that," he said.
Newcastle Jets sack Scott Miller
"I left Australia because I wanted to see more and learn more about it, and it was a proud day when I signed with the Jets because it was almost like returning home with what I learned.
"But not everyone can come to Europe and do it. Even though you might win the A-League… a lot of coaches may well find it difficult to [move abroad]. It's not just a case of making a phone call and applying for a job.
"This job was created for me here based on my relationships."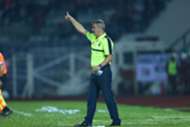 Mehmet Durakovic, Perak
Both Durakovic and Jelicic assert that they have never needed to apply for a coaching position, with the latter having picked up five subsequent jobs in Uzbekistan since he was offered a six-week contract to prepare the national team for World Cup qualifiers in 2005.
"To be honest, I have never applied for a job anywhere," the former Cockburn City boss said.
"Everywhere I have worked has come about as a result of being recommended by people I have worked with before or formed an association with from previous appointments."
'I don't think I got much respect at all'
The ruthless nature of football as a business underlines the difficulty in simply holding onto a coaching job abroad, let alone being successful.
Durakovic is under no illusions that he would be working in Malaysia if he hadn't won three straight cup titles while playing with Selangor in the 1990s, and then backed that up with a trophy as coach at the same club.
Archie Thompson: Durakovic had to go
"One thing about Asia, everybody knows each other and they go on respect, they go on reputation," he said.
"If you do well, you've got a good name. If you don't, then as a player or a coach, you don't last long."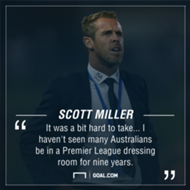 Yet, in the A-League, Glory's Kenny Lowe is the only serving head coach that has worked for multiple years overseas after stints in the lower leagues of England with Gateshead and Barrow around the turn of the millennium.
Considering that, Miller reckons his experience at Fulham - where he started out as a fitness coach - wasn't given appropriate appreciation during his time at Newcastle.
"I don't think I got much respect at all," he said.
"From the important people, I certainly did because they're the ones that brought me back to the country but it's like anything - when you're young and you're Australian but you're new to an environment… there are a couple of things: people can be intimidated by it or they can be fearful of it or they just don't like you.
"It was a bit hard to take, to be fair, because I haven't seen many Australians be in a Premier League dressing room for nine years, and that's not an egotistical thing but more about how about we share ideas and learn off each other and that was always my perspective."