Al Hilal Omdurman
Augustine Okrah eyes Al Shendi scalp in Sudan Cup final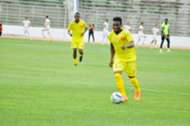 Ghanaian midfielder Augustine Okrah believes Al Hilal Omdurman will defeat Al Shendi in the final of the Sudan Cup on Thursday to complete their first double in three seasons.
The 24-year-old played a crucial role in the Blue Wave's run to lift the Sudan Premier League last week, after they defeated fierce rivals Al Merriekh 2-0 on final day and will now have to switch their attention to the Cup final.
Al Hilal on Tuesday defeated Hilal Obayed 5-4 on penalties in the semifinals and will lock horns with Obayed who also thrashed Merriekh 3-0 in the other semifinal.
"We're prepared for the Sudan Cup final and will definitely win at the end of the day," Okrah told Goal.
"I have recovered fully and hope to play a part in the game and at least score or provide an assist. We can't miss this opportunity especially when Christmas is around the corner.
"We made several mistakes in the semifinals against Obayed because we went behind twice in relegation time but had luck in the penalty shootout. I don't think we will allow the final to travel that far, we must kill it before it travels to extra time," he added.
Okrah has scored eight goals in all competitions this season, nine goals short of his personal best in the previous campaign.
Goal understands that Okrah is one of the players Kwesi Appiah has penciled down for a debut call-up ahead of the Black Stars' next game.