Primera División
Atletico Madrid invite oldest season-ticket holders to be mascots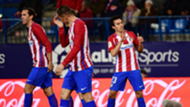 Atletico Madrid introduced a touching twist to the pre-match formalities on Saturday by inviting their oldest season-ticket holders to be mascots.
An experience normally reserved for young fans was turned on its head before the game against Real Betis as a number of elderly supporters took to the pitch instead.
Simeone aims Ballon d'Or jibe at Ronaldo
If the mascots had any words of wisdom for the players, they paid off; Atletico emerged 1-0 winners thanks to a Nicolas Gaitan goal to make it three wins in a row in La Liga.
Well isn't this cute. Atletico Madrid had their oldest season tickets holders as mascots this evening pic.twitter.com/idGniierZM

— The Offside Rule (@OffsideRulePod) January 14, 2017
Diego Simeone, however, was in an irritated mood after the match and appeared to suggest the rest of the crowd was not quite as dedicated as the mascots.
The Argentien criticised the lack of atmosphere at the Vicente Calderon - a stadium normally known for its relentless intensity - and hoped that it would not affect his team's performances.
"I played here for five years and have coached here for five more and I know everything [about the club]," Simeone said post-match.
The Messi stat to make Ronaldo jealous
"When the atmosphere begins to quieten it irritates me a little. We tried to not let that feeling, that sense of tranquillity in the crowd, be transmitted on to the field.
"I don't like it when it's quiet."