Super League
Asri eyes improvement in Negeri's attack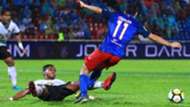 The 2-0 reverse suffered at the hands of league leaders Johor Darul Ta'zim meant that Negeri Sembilan stay firmly rooted to the bottom of the table. With only five points gained after 11 matches played, the odds are low on Negeri being able to beat the drop.
Champions JDT are not the side Negeri are expected to be able to challenge. Their focus should lie in other matches but if they can show similar defending qualities that enabled them to keep JDT at bay for most parts of the match, they will give themselves at least a fighting chance.
With Mario Lemos still not got his coaching clearance yet, he had to watch the entire match from the stands which left Asri Ninggal being the one on the sidelines. The assistant coach was less than pleased that all the good work was undone in a matter of seconds.
"We lost our focus by making easy mistakes. we let them have the ball and we weren't disciplined in defending. The second half we got too excited in trying to attack and got caught out again."
"Our attack was easily broken down by JDT. We were good in defending but not in attack. We need to improve on that when before the next game. With the new coach, the players are showing a positive attitude. When Nico comes back for the Kelantan game, hopefully we get start getting points," said Asri to the host broadcaster after the match.
Negeri will face Kelantan next in a match classified as an away fixture but one that will be played at Tunku Abdul Rahman Stadium in Paroi. This is because of Sultan Muhammad IV Stadium in Kota Bahru will not be elligible for use throughout the fasting month.