African All Stars
Arsenal's Aubameyang targets Tottenham's scalp in 'special' North London derby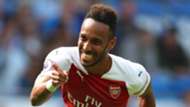 Pierre-Emerick Aubameyang has stated that he is anticipating to score in a 'special' North London derby against Tottenham Hotspur on Sunday.
Both team head to the Emirates Stadium having not suffered losses in their five previous games across all competitions.
With three points adrift of their neighbours, a victory for the Gunners would move them level on 30 points with Spurs who are third in the Premier League.
And Aubameyang has set his sights on the three points as Arsenal look to stretch the unbeaten streak to 18 matches across all competitions.
"All players want to play in these types of games. We're playing at home and we have to give a win to our supporters," Aubameyang told club website.
"When you play a derby and you score, it's really special. As I said, in the past, I've played some derbies and I've had the chance to score and it was a great feeling. The last derby at Wembley was a bad day for us but we have to change it and win this one."
The 2015 African Footballer of the Year was on parade in the Gunners' 1-0 defeat to Tottenham back in February.
Prior to that, he had experienced several local derbies including the Ruhr derby against Schalke 04, the Borussen derby against Borussia Monchengladbach, both as a Borussia Dortmund player. Also, the Rhone-Loire derby against Lyon when he was at Saint-Etienne.
"Just when you come on to the pitch and you feel the atmosphere [you know how big it is]. It's great stuff," he continued.
"It's like when I played for Dortmund or Saint Etienne before, we had great derbies also and I feel the same now. It's a lot of excitement and I think these are good games."