Olivier Giroud
Arsenal legends told me I should leave for Chelsea – Giroud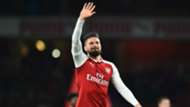 Olivier Giroud has revealed that he was told by two "legends" that he should leave Arsenal for Chelsea in the January transfer window.
The 31-year-old striker made the move earlier this year, and while he is not entirely content with his early form at Stamford Bridge, he felt his time at the Emirates was winding down.
That was confirmed to him when Robert Pires and Freddy Ljungberg told him it was time to move on in his career.
"Football legends like Robert Pires, who's a close friend, Freddy Ljungberg and even some former Chelsea players told me that their game would suit me because they always play with a big striker and cross a lot," he told L'Equipe.
While Giroud refused to criticise Arsenal boss Arsene Wenger, he said he felt more important in Antonio Conte's plans.
"The difference is the coach made me sign and he wants to play me, he likes my profile," he said. "Of course, the fact that Arsenal signed Pierre-Emerick Aubameyang after recruiting Alexandre Lacazette last summer, that weighed heavily on the scales to make me lean towards leaving. 
"Wenger told me that he would make sure, in terms of how I left, that I could be happy because he took a little responsibility with my situation. At the start of the season, I said I wanted to stay even if he wanted a different type of attacker because I knew that I was going to get some playing time and I wanted to fight for my place.
"Dropping down to third choice, though, my departure became unavoidable."
Giroud has scored only one goal since moving to Chelsea but is in France's squad to face Colombia and Russia in friendly matches over the coming week.