United States
Arena's first U.S. lineup of 2017 should offer glimpse of March qualifying options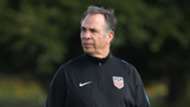 CARSON, Calif.— There are no World Cup qualifying points on the line on Sunday when the U.S. national team takes on Serbia in the team's first match of 2017. What is on the line is a chance to build some momentum ahead of the crucial March qualifiers, as well as an opportunity for several players to start staking their claims to be starters in Bruce Arena's second stint as U.S. coach.
As much as the January U.S. camp has been about seeing some new faces, and some familiar faces back after long absences, Arena has also used the past two weeks to get a closer look at some of the team's established regulars, and how they might look alongside some other players vying for regular playing time.
Jozy Altidore and Michael Bradley came into camp as clear-cut starters, while Jermaine Jones has successfully asserted himself as someone Arena will want to have on the field for the foreseeable future. The January camp has helped some others assert themselves in the climb up Arena's depth chart.
What will Arena's first lineup look like on Sunday? Here is the team we could see face Serbia.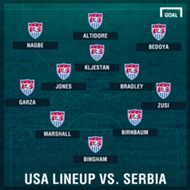 Sunday's friendly should help shed light on some of the position battles and tactical ideas Arena has in mind for his group as March's qualifiers against Panama and Honduras draw closer.
Here are some of the positions and tactical wrinkles to keep an eye on in Sunday's friendly:
---
THE THREE-MAN MIDFIELD
---
If Arena does deploy a 4-3-3 against Serbia, then watching Sacha Kljestan, Jermaine Jones and Michael Bradley work together will be very interesting. Bradley has transitioned into more of a defensive-minded role on the club side, and has expressed his desire to play a deeper role with the U.S. That is sweet music to Jones, who still prefers having the freedom to roam around as a box-to-box midfielder.
Seeing Jones and Bradley as they work together with Kljestan at the top of the midfield will bear close watching because it could very well be what we see in the March qualifiers.
---
THE GOALKEEPER BATTLE
---
Tim Howard's recovery from groin surgery, coupled with Brad Guzan's status as a backup at Middlesbrough until a summer move to Atlanta, could mean a wide-open battle to start in March, and the goalkeepers currently in camp have to be considering the possibilities.
Rimando has the experience edge, but Bingham has had a solid camp and looks to be the choice to start the first match of the year for a second-straight year.
---
THE LEFT BACK OPTIONS
---
Bruce Arena called in four different left backs into January camp, and though he has already sent Taylor Kemp home, the three remaining options are all intriguing ones.
Greg Garza has looked solid in camp, and appears to be back to full strength after an arduous process that saw him sidelined after hip surgery. He looks to have the edge coming out of camp, and Sunday's friendly could mark his first step toward making a serious claim to the starting left back role in 2017.
DaMarcus Beasley has made a good case for himself in the camp too, and should get minutes in the upcoming friendlies. His big-game experience would surely make him a preferable option for Arena, but he is facing a fight from some talented and much younger options.
Jorge Villafana is one of those options, though his lack of playing time at Santos Laguna these days could make it tough for him to make a strong push in the near future.
---
THE ZUSI EXPERIMENT
---
Arena went into camp intent on seeing Graham Zusi at right back, and the Sporting Kansas City midfielder has apparently done enough to keep that experiment going. Zusi has embraced the position change, and has taken to the defensive aspects of the role. There is no substitute for game experience though, so expect Zusi to start against Serbia, and, if he does well, get a second start against Jamaica.
And the other right back options? Brad Evans is a veteran who should get some minutes in the upcoming friendlies, but Arena looks intent on giving Zusi a long look to see if he can develop into competition for the likes of DeAndre Yedlin and Timmy Chandler at right back.
---
CENTER BACKS OF ALL AGES
---
There are only three natural central defenders remaining in camp, and each has made a good case for minutes in the upcoming friendlies.
Start with Steve Birnbaum, who solidified his standing as one of the better center backs in the overall pool. He's the top choice in this group, and should start on Sunday. Arena knows that Birnbaum has passed every national team test thrown his way, and is a safe bet to keep giving him minutes in order to get him ready to compete for a place in the March qualifiers.
Chad Marshall is 32, and while you can argue he has lost a step from his Columbus Crew days, his knowledge and experience helps him read the game like few other American center backs. That makes him an intriguing option for Arena, who should give him a start against Serbia.
Walker ZImmerman, 23, has been one of the most impressive newcomers in the January camp, and even if he doesn't start against Serbia, he has already seen his national team stock rise, which should mean more opportunities in the near future.