Manchester United
Are Man Utd 'dead' in relation to the top four? Mourinho offers response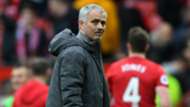 Jose Mourinho insists Manchester United are not out of the running for a top four finish, but admits they are "losing too many points at home".
The Red Devils missed the opportunity to move into the Champions League places, albeit briefly, after being held to a 1-1 draw by Bournemouth on Saturday.
'It won't be easy to force out Rooney'
That stalemate was United's 10th in the Premier League this season, and their seventh at Old Trafford.
Hull City, Liverpool, West Ham, Arsenal, Burnley and Stoke City have also left Manchester with a share of the spoils this term.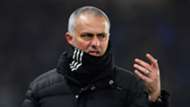 Mourinho concedes that draws could end up costing his side, but believes there is still more than enough time – with 12 games remaining – for United to climb the standings.
He told reporters after a frustrating afternoon against Bournemouth: "Are we dead in relation to the top four? No. We are not dead – there are matches to play, points to win, points to lose, points to fight for – but the reality is we are losing too many points at home.
The stat that shames Man Utd forwards
"If you look at the points we've lost at home – all the matches where we draw – if you accumulate these points, you're thinking about 10 or 12 and, with these points we wouldn't just be speaking about the top four – we'd be speaking about the top two or the top one."
It was an all too familiar story for United against Bournemouth, with an inability to turn possession and pressure into goals counting against them.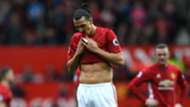 Mourinho acknowledges that his team need to be more ruthless, with plenty of attacking firepower in he squad.
The Portuguese added: "We need to score goals – other teams with less chances score goal.
Mou: We stopped practising pens!
"Against Southampton in the EFL Cup final, we had five chances and scored three but, against Bournemouth with more than 10 chances, we scored one goal.
"The old story of creating lots of chances and not scoring goals is that - an old story – but one that applies perfectly to our football in these games at home."