CAF Confederation Cup
'Anything can happen' – Victor Ezeji positive about Enyimba's chances against Raja Casablanca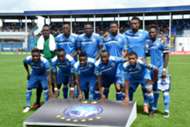 Victor Ezeji warned Enyimba against complacency, stating "anything can happen" and urging them to stay focused against Raja Casablanca on Wednesday night.
Usman Abdallah's men lost 1-0 in their first leg semi-final clash at home and must defeat the Moroccans before their home fans to stand a chance of reaching the final.
However, the former Enyimba man claimed his former side can silence the north Africans if they get their acts right.
"Come on, it's football and anything can still happen. I think Enyimba still have chances if they can put their acts together," Ezeji told Caf website.
"In the first leg, Enyimba switched off completely and the story could have been different if they'd converted the few chances they had.
"Raja got a chance and converted it and that made a huge difference. Who says Raja can't have a bad day at home?
"I agreed with the fact that it won't be easy for Enyimba because Raja already has their nose in front but nothing is impossible in football."
"We know how passionate the north Africans are about their football; Enyimba will have to be mentally strong to deal with whatever is thrown at them," he continued.
"Of course, the game is going to be decided on the pitch and Raja would not need an extra player except the eleven to face Enyimba.
"As such, Enyimba should concentrate more on what is going to happen on the pitch and should not be distracted; they need maximum concentration to survive Raja in Casablanca."