Rangers
Americans Abroad: Emerson Hyndman scores on a rocket for Rangers and more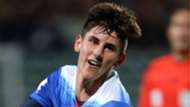 Emerson Hyndman moved to Rangers hoping to get his season, and arguably his career, back on track. It looks well on the way to doing so, just two games in.
Hyndman's debut with the Scottish club, after joining from Premier League side AFC Bournemouth on loan in January, saw him pitch in as a substitute with an assist on the game-winning goal against Motherwell in the Scottish Cup. The midfielder's league debut saw him top that, scoring a goal and picking up the Man of the Match award in Rangers' 2-0 win, once again against Motherwell.
The goal saw Hyndman take a pass at the top of the area and fire a rocket past Motherwell keeper Craig Samson in the 87th minute to seal the victory for the Glasgow side.
Talking to the Rangers official site after the contest, Hyndman took his goal in stride.
"I wouldn't call myself a goal scorer, but I like to get in and around the box," he said. "When you get chances you've got to try to put them away. Had two today, and put one in."
When asked whether he expected to make finding the net a regular occurrence, Hyndman downplayed those chances, though he thinks Rangers style is conducive toward scoring.
"It's a very attacking team. You find space and people can create chances on their own, which is nice. I think whenever you have a team that's attacking minded, you find chances easier."
Good win today. Great support from the fans throughout. Thankful to have scored my first @RangersFC goal. pic.twitter.com/F31b6eaGu5

— Emerson Hyndman (@emersonhyndman) January 28, 2017
Two games in, it's hard to see how the start of Hyndman's Rangers career could have gone much better. Bournemouth might even be starting to wonder whether the midfielder could have helped as it fights to maintain its place in the Premier League.
---
ROUGH DAY FOR CAMERON CARTER-VICKERS
---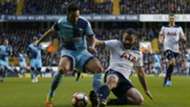 As a young player on a team that fancies itself a title contender, Cameron Carter-Vickers doesn't get a lot of opportunities to impress in game situations at Tottenham. Cups are the rare exceptions to that, so it is important for Carter-Vickers to make the most of those chances.
Unfortunately for the 19-year-old center back, he had a bit of a nightmare against League 2 side Wycombe Wanderers in the FA Cup on Saturday. He was part of a backline that conceded three against Wycombe and Carter-Vickers himself gave away a penalty for the League 2 side's second goal.
The good news for Carter-Vickers is Spurs rallied for a 4-3 victory thanks to a pair of late goals. He also earned praise from teammate Harry Winks, despite the penalty.
"He's mentally very strong. He can deal with that. Everyone is going to make a mistake," Winks told Football London. "I haven't seen it back yet so I don't know if it was a penalty, but he has the character and the ability to bounce back from situations like that." 
Given his age, and the fact he lasted the 90 minutes, this isn't the end of the world for Carter-Vickers. It's just a reminder that he may still be a little ways off earning consistent minutes for Spurs in the league. 
---
DEBUT STARTS FOR TERRENCE BOYD AND JULIAN GREEN
---
This weekend offered fresh starts for Terrence Boyd and Julian Green, with both making debuts with their new teams.
Boyd kicked off his time at Darmstadt fairly quietly. Perhaps surprisingly thrown right into the side in the same week he was signed, Boyd ended up going 74 minutes. Unfortunately, he didn't manage a shot in the contest, getting 30 touches in total. Even worse for Darmstadt, it took it on the chin against Koln, losing the contest 6-1.
The result for Stuttgart was better against 2.Bundesliga struggler St. Pauli, picking up a 1-0 win. Green started the contest for Stuttgart, but lasted just the first half and was taken off at halftime.
So while it certainly is good for both Boyd and Green that their new managers thought well enough of them to throw them right into the starting XI, they will be hoping for better returns in future contests.
---
ALFREDO MORALES EARNS FIFTH STRAIGHT START
---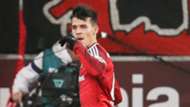 At the start of the season, midfielder Alfredo Morales's playing time at Ingolstadt's was sporadic. He played in seven of the side's first 13 Bundesliga games with only four of those appearances coming as starts, with injuries and poor form limiting his time.
But things may have changed for Morales. The midfielder has now started Ingolstadt's last five contests in the league, scoring one goal and going the full 90 in four of those games. It's probably helped Morales' case that three of his side's four wins have come over that five-game span, with two of those victories coming against RB Leipzig and Bayer Leverkusen.
With Bruce Arena not wanting to shake things up too much for the March qualifiers, Morales may not be due for a national team recall just yet. But if he continues to land in Ingolstadt's XI for the remainder of the year, expect the midfielder to get a chance to show why he belongs in the USA's midfield in this summer's Gold Cup.
---
FABIAN JOHNSON RETURNS
---
After aiming to get back for Borussia Monchengladbach start to the second half of the Bundesliga season, Fabian Johnson (Achilles) finally got back on the field in his side's second game of the second half.
It was a brief appearance for Johnson, as he entered in the 85th minute. But Monchengladbach overcame Javier "Chicharito" Hernandez breaking his goal-scoring drought for a 3-2 victory.
While Johnson made his way back, Aron Johansson was not quite able to make the bench for Werder Bremen in its 2-1 loss to Bayern Munich.