Arbeloa
'Alvaro offers you unconditional friendship' - Alonso sends touching tribute to retiring Arbeloa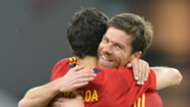 Xabi Alonso has sent former Liverpool, Real Madrid and Spain team-mate Alvaro Arbeloa a touching send-off following the 34-year-old's decision to call time on his career on Saturday.
'Ronaldo is wanted at Real Madrid'
The full-back made over 200 appearances for the Reds and Los Blancos combined before later spending a year back in the Premier League with West Ham. He was capped 56 times by the Spanish national team and helped secure the 2010 World Cup and the European Championship in both 2008 and 2012.
Arbeloa made just three Premier League appearances for West Ham last season before being released.
His decision to retire from the game sparked tributes from players and coaches alike, including words from Manchester United boss Jose Mourinho, with special words from former colleague and friend Xabi Alonso.
"He arrived at Liverpool silently, away from the noise of the leading role," Alonso said.
"He won the shirt through his fight and loyalty. We all remember his match [against Barcelona] in the Nou Camp in the Champions League in 2007.
"That day he became the player that all coaches want to have.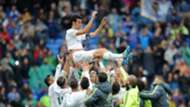 "Since our years in Liverpool and later in Madrid, we became inseparable, because Alvaro offers you his unconditional friendship.
"He never cared what they say, but he has always been faithful to his convictions. He has never hesitated to defend what he believes and that is why I admire him so much.
Donnarumma denies Raiola split
"Now a new stage is opening in his life, but with his head.
"For all these things I will always love you on my team. Both professionally as in life."
Alonso is also stepping away from the professional game, having played his final minutes of his career during Bayern Munich's 2016-17 Bundesliga winning campaign.