Stand United
Ally: We did not deserve to lose against Yanga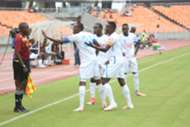 Ally Ally has said that his Stand United side did not deserve to lose 3-1 against Yanga on Monday in the Ligi Kuu match which was held at the National Stadium.
Speaking in the post-match conference, the central defender said that their early mistakes allowed Yanga to score two quick goals and that was the turning point of the game.
"We committed some poor mistakes which allowed the opponents to score goals, after the goals we played very well but unfortunately we did not get even a point," said Ally.
Ally said in the next match they will try hard not to repeat the same mistakes which cost them in the Yanga fixture.
Yanga's Yusuph Mhilu broke the deadlock in the 6th minute, five minutes later Ibrahimu Ajib doubled the advantage to give the Jangwani Boys a comfortable lead before the break.
In the second half, the visitors produced an improved performance that brought a late goal for Vitalis Mayanga.
However, Obrey Chirwa made sure of Yanga's 8th consecutive Ligi Kuu win after racing to catch Mhilu long pass to score his 12th goal of the season in the Premier League.
Stand United are winless in their last four games, and sit eleventh on the table with 22 points four above the relegation zone.