Transfers
Allegri & Juventus face sternest Serie A season yet
---
COMMENT
---
The evening after watching his Juventus side lose 4-1 to Real Madrid in the final of the Champions League in May, a crestfallen Massimiliano Allegri sat at home and considered resigning.
"Is this the end of the road?" he asked himself. "Is this as far as I can take this team?"
Allegri decided not to resign. He had more to prove, more to give.
"The next morning, my head was clear," he explained. "I went to my office at 7 a.m. and had my espresso.
"It was a new season, with new opportunities."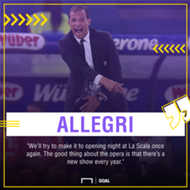 Pessimism had given way to optimism. Juventus had once again fallen at the final hurdle in the Champions League - for the second time in three seasons - but their coach still believed that the Bianconeri could turn their domestic dominance into European glory.
Juve 12/1 with dabblebet to win CL
Yet now, on the eve of the start of the new Serie A season, there are those who doubt whether the reigning champions will claim a seventh successive Scudetto.
The Cardiff capitulation has left deep scars; the fallout is still being felt.
Ahead of Sunday's Supercoppa Italiana showdown with Lazio, defender Giorgio Chiellini spoke of the need to "shake off" what had happened during a shockingly tame second-half submission at the Millennium Stadium.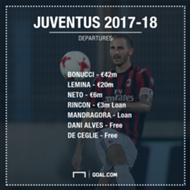 Leonardo Bonucci, the man at the centre of reports of a dressing-room dust-up during the interval in the Champions League final, had been sensationally sold to AC Milan for €40m, but it was clear at the Stadio Olimpico that Juve are still not themselves again.
They conceded three times - including an injury-time winner - against Lazio, meaning that Paulo Dybala's dramatic late double counted for nothing.
Certainly, it was a positive that the Argentine attacker does not appear to be feeling the weight of wearing the No.10 jersey at Juve - something which affected Paul Pogba's form at the start of the 2015-16 season - and, even more encouragingly, he appears happy in Turin in spite of constant links with Barcelona.
However, Juve's Bonucci-less defence has looked vulnerable in pre-season and there is anxiety over the fact that the midfield has not been adequately strengthened.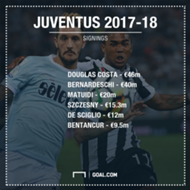 Blaise Matuidi has arrived from Paris Saint-Germain to compete for a midfield starting berth with Miralem Pjanic, Claudio Marchisio and Sami Khedira but there is the undeniable feeling among the fans that while the 30-year-old represents good value, he is past his best and certainly not the genuine upgrade that they were anticipating.
On the plus side, the acquisition of Douglas Costa from Bayern Munich should prove a masterstroke. The Brazilian endured a difficult campaign under Carlo Ancelotti last season but even Bayern CEO Karl-Heinz Rummenigge admitted, if the 26-year-old can rediscover the form of his first season at the Allianz Arena, he will terrorise Serie A full-backs with his blistering pace and quick feet.
Certainly, the width he offered following his introduction as a substitute played a pivotal role in Juve's late rally against Lazio.
Federico Bernardeschi also has the ability and the talent to excel, as he showed for Italy at this summer's Under-21 European Championships, but it has long been wondered just how he will fare at the highest level.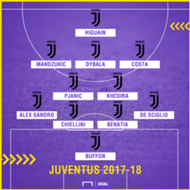 There is also a question mark over Gonzalo Higuain. The €90m man is a notoriously fragile character and it remains to be seen how he reacts to the vote of no-confidence he was given last week by new Argentina manager Jorge Sampaoli, who left him out of his first squad since taking charge.
Higuain apologised to Juve fans for Sunday's loss to Lazio but promised them a "fantastic year".
Of course, the one issue there is that Juve have set the bar incredibly high. They have won the double for the past three years. Anything less than that, or a Champions League triumph, would be considered a let-down.
Consequently, Juve fans will be concerned by the fact that their beloved Bianconeri will arguably have a tougher battle on their hands to retain their title this season than ever before.
Milan have strengthened significantly and Inter have been revitalised by Luciano Spalletti, while Napoli, who have held on to their best players, remain the finest footballing side in Italy.
Indeed, there are those that believe that the Partenopei play with a panache of which Juve are simply not capable - and that their more defensive style is one of the reasons why they have hitherto been unable to take that final step in Europe.
In the opinion of Arrigo Sacchi, the Bianconeri are too cautious for their own good.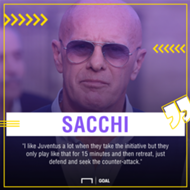 "I like Juventus very much when they take the initiative, but they only play like that for 15 minutes and then retreat, just defend and seek the counter-attack," the former Milan boss said in an interview with the Corriere della Sera.
"They're not making the most of their attacking potential or feeding the strikers. I would love to ask Max Allegri why they do that.
"I fear it is a physical issue, so the team cannot handle playing in a certain way for an entire half of football.
"Many Juventus fans ask me the same question and I'd honestly love to know."
Of course, the response would probably be that it has been a successful approach for the Old Lady up until now and, at Juve, winning is the only thing that counts.
Having resisted the urge to stand down, Allegri is now adamant that increased competition will actually help Juve realise all of their ambitions.
"I know we can have a great season," he declared. "I know we can have a great Champions League campaign. So now we just continue to work.
"We'll try to make it to opening night at La Scala once again. The good thing about the opera is that there's a new show every year."
And this promises to be the most enthralling one yet.