Juventus
Allegri: Dybala is a schoolboy but Buffon will get his Master's degree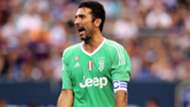 Juventus head coach Massimiliano Allegri has praised Paulo Dybala and Gianluigi Buffon as "symbols" of his side.
Both played key roles as the Serie A giants reached the Champions League final last season only to lose to Real Madrid, and Allegri is confident both will be at the fore as Juve attempt to go one better this time around.
Writing on The Players' Tribune, Allegri explained that the mix of youth and experience, from 23-year-old Dybala to 39-year-old Buffon, in his side is one of the secrets to their success.
"I look at Dybala and Buffon. In a way, they are symbols of this team," he explained.
"I see Dybala, like a bright boy about to start his first year in school. Buffon, with a World Cup, is about to get his Master's degree.
"One with his career ahead of him, and one near the end. One who wants to show that he can be one of the greats in Europe. One who is already a great, but wants to end his legacy on top."
Morata: Critics are killing me
Buffon is seeking to win his first ever Champions League title and Allegri is confident that Juve will at the very least be among the contenders once again.
"I know we can shed the scabs from Cardiff. I know we can have a great season. I know we can have a great Champions League campaign," the coach said.