Canada
All-time Canadian caps leader Julian de Guzman announces retirement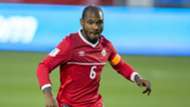 Julian de Guzman has called it quits on a 17-year playing career.
The all-time leader in international appearances for Canada men's national team, de Guzman was also the first Canadian to play in the Spanish top flight with Deportivo La Coruna. The 35-year-old's professional career also included stops in France, Germany and Greece, in addition to his stint as the first Canadian designated player in MLS with Toronto and Dallas.
At the international level, de Guzman appeared for Canada 89 times over 15 years.
"I'm very honoured and thankful for such a great career and I'm proud to be Canadian," de Guzman said at a press conference on Monday. "I've went through a lot, had to sacrifice everything to do what I love, but I don't regret anything. I've had to deal with doubters all my life - for example, my last year in Marseille when they told me to go back home because professional soccer wasn't made for Canadians - but I hope I proved everybody wrong."
MLS Players Union condemns Trump executive order
Primarily employed as a defensive midfielder, de Guzman played in over 500 games between his club and international teams. His last professional contest was Aug. 6, 2016 for the Ottawa Fury, while his final international appearance came in a 1-1 draw with Azerbaijan on June 3, 2016.
"Julian de Guzman is a Canadian soccer trailblazer whose impact on the game will be felt well into the future," Canada Soccer and CONCACAF president Victor Montagliani said. "We would like to thank Julian for his hard work, perseverance and leadership over his 15-year career and wish him the best as he prepares for the next chapter of his career."
De Guzman now joins Ottawa's technical staff as assistant coach and assistant general manager under Paul Dalglish.