Tanzania
Match Report: Algeria 4-1 Tanzania, Hosts prove too strong for Taifa Stars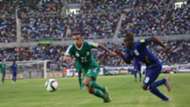 Algeria's Baghad Bounedjah scored twice to give his side a deservedly 4-1 victory against Tanzania.
The game was used as preparation for both sides ahead of their 2019 AFCON qualifiers.
The home side broke the deadlock just after 13 minutes through Bounedjah who raced to catch a beautiful penetration pass from Leicester City's Riyad Mahrez.
The goal lasted only for 8 minutes before Simon Msuva headed from the Shiza Kichuya's left foot corner to make it 1-1.
One minute before half time, Tanzania's right full-back Shomari Kapombe headed in his own net to let the hosts ahead until the break. Kapombe was triying to defend a Sofiane Hanni's cross into the box to find Bounedjah.
The home side started the second half strongly to make the visitors suffer in their own half. Central defender and the captain Carl Medjan added another goal in 53th minute to make life even more difficult for Salum Mayanga's boys.
Bounedjah scored the fourth goal of the evening and his second of the game to conclude the rout.
Kichuya had the best opportunity to score after his two shots one hit the side post and the other wasted when he got a rebound which well saved by goalkeeper Faouzi Chaouchi.
This is the second time in a row for Taifa Stars to get a hammering from Algeria, the last time they visited they were well beaten by a 7-0 scoreline in a World Cup qualifying tie in 2015.
Taifa Stars will return home to host DRC Congo in another friendly match on March 27 while Algeria will play Iran on the same day.