Premier League
Alexis worth £300,000-a-week contract at Arsenal as Ramsey runs the midfield again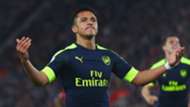 ---
COMMENT
---
Alexis Sanchez was nicknamed ardilla, or squirrel, by his friends when growing up on the streets of Tocopilla, Chile because he was the quickest going up trees to recover the ball.
"He would play at school, in the streets and on a pitch near to his house,' explained childhood friend David Lopez. "This pitch was his favourite place. He was only little. We called him 'squirrel' because he was so quick and he was very agile."
This season has seen a familiar theme play out in England where Sanchez has been doing his own recovery work. bailing Arsenal out of games time and time again, on this occasion in a crucial Premier League match against Southampton at St Mary's.
Those who previously criticised the 28-year-old for his carelessness in possession over the past few months were once again made to eat their words as Sanchez dropped his shoulder on three defenders in a sumptuous Arsenal move which was assisted by Mesut Ozil.
How ironic that the two contract rebels are playing such a huge part in the Gunners' climax to the season - one which has been dogged by disruption, dismay, disappointment and general ill feeling but could yet culminate in a piece of silverware and qualification for the competition which Arsene Wenger has always qualified for.
PSG, Bayern Munich, Chelsea and Manchester City are all hot on the tail of El Nino Maravilla and will be watching his contract situation with great interest this summer. But, for now, Arsenal and their fans can savour Alexis a little while longer after his goal set them on the way to a 2-0 win which lifted them up to fifth in the table and kept them in with an outside chance of making the Champions League.
Alexis is the first Arsenal player to score 20 league goals in a season since Robin van Persie in 2011/12, while he has more away goals than any other player in the league (14) in this campaign to prove he is worth a £300,000-a-week contract extension.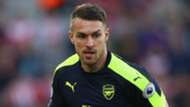 A mention is also warranted for Aaron Ramsey's performance at Southampton. The Welshman has had his own critics this season but took the midfield by the scruff the neck in the second half, with his glancing header finding Olivier Giroud for the second goal.
Ramsey's runs from deep have opened up space for Arsenal's attackers in the final third and his box-to-box abilities make him a unique asset to a Gunners side which needs more inventiveness and creativity from the midfielders.
REVEALED: Barca's transfer plans
If Arsenal are to secure a top-four spot then they are going the right way about. The biggest test of their final three games will surely come against Stoke City at the Britannia on Saturday, a stadium where they have had many a nightmare which they won't want to repeat this weekend.
Wenger could realistically earn himself another contract extension if he finishes in the top four and wins the FA Cup and, while many are focused on the managerial situation, it's equally as important that Arsenal keep the likes of Alexis and Ozil at the club if they have any ambition of competing for major honours next season.