Manchester United
Alexis Sanchez: Adapting to life at 'big club' Man Utd has been tough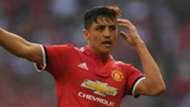 Alexis Sanchez says it's been tough going adapting to life at a "big club" since his January move from Arsenal to Manchester United, but he is looking forward to a third FA Cup final after scoring a goal in the 2-1 semi-final win over Tottenham on Saturday .
Sanchez headed home his eighth goal in eight Wembley appearances, and his fourth in three FA Cup semi-finals, as United came from behind to see off Mauricio Pochettino's side at Wembley.
And while he has won the trophy twice with Arsenal, he says it hasn't been an easy transition since arriving at the more demanding surroundings of Old Trafford in the winter transfer market.
"In truth it's been very hard for me, coming to a big club, it changed everything. So today I'm really happy, for the team, the goal and for the attitude we showed throughout the game," the Chilean told reporters after the game.
"It was a great pass from Paul Pogba, and when the ball was in the air I wanted to hit it to the near post but then I saw the goalkeeper go the other way so I changed to the far post to catch him off balance."
Sanchez also paid tribute to United manager Jose Mourinho's drive for success, adding that he hopes to be a part of a title push next season under the Portuguese.
"He is a coach that demands a lot, and when we lose he gets very angry. We need those kind of demands to get the best out of us. He asks me to play a free role, to enjoy myself, to attack, defend, to do everything!
"What can we take from this season? It's been difficult, I think next year we have to go for it. It was a tough change for me. The coach told me to speak with him as he's not used to bringing in players in January. It has been demanding but we hope to win the final.
"United are special because of their history, they have so much history on a world level. You guys can see that when you come to the stadium. The fans too, I have come here and I want to win everything next year with this team and with the coach."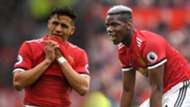 The 29-year-old added that he has reached out to his former Arsenal boss Arsene Wenger following the announcement of Friday that the Frenchman will step down from his role at the Emirates Stadium at the end of this season after 22 years.
"I have already written to him, not on social media but I wrote to him personally. I sent him my congratulations and he thanked me," he explained. "It's sad because he is a football legend, a gentleman who shows respect and professionalism and I only have words of gratitude for him."