African All Stars
I'm still the same person, says Arsenal's Alex Iwobi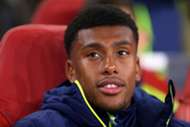 Alex Iwobi has declared he is still the same person despite rising through the ranks at Arsenal and becoming an established member of the first team.
The Nigeria international broke onto the scene last season with eye-catching performances whilst making 38 appearances and scoring four goals in all competitions for the Emirates Stadium outfit.
And those performances have also seen him become an integral part of the Super Eagles core but he is adamant those successes haven't changed who he was.
"I still hang with the same friends when they're back from uni, every time after training I still go home and sleep," Iwobi told club website.
"Nothing's really changed, just playing in the first team I guess. I do get recognised more, people are like 'ahhh'.
"Two years ago you could just come in, I'd normally go back to my old area and play in my cage and no one would bother me, but if I go and play in my cage now - 'ahhh Alex Iwobi's here'. I'm still getting used to that because I still feel like I'm the same as my friends and the same person as two years ago, but when people are like 'do you know what you've done?'
"Obviously I was lucky to have an uncle that played football, so he still gives me advice from time to time, but my mum and dad keep me grounded.
"The more I'm progressing, the more money, the more the fame comes with it, but they're helping me invest because football is a really short career, so they're also making me think about life outside of football as well a bit more, but I'm not one to go spending and living a flashy lifestyle, I try to keep as humble as I can and I'm still the same.
"That's what I'm going to keep on saying, I'm still the same person as I was two years ago."