Ajax
Ajax beat Bayern Munich to win Future Cup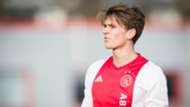 Ajax regained their crown as the most successful team in the ABN Amro Future Cup on Monday when they beat Bayern Munich 2-0 in the final.
Bale ruled out of Bayern clash
The tournament hosts started the first half well and it took just two minutes for them to break the deadlock. A cross came in from the left wing and looked comfortable for defender Alexander Nitzl to deal with, but the centre-back could only knock it into his own net.
Though the German side pushed forward for the equaliser, they struggled to threaten the Ajax goal and the hosts soon struck again when a corner bounced well for Abdallah Aberkane to smash home from close range.
The Amsterdammers looked worthy of the win as a solid display saw them rewarded for an impressive tournament. They have now won the cup four times, having beaten three-time champions Anderlecht in their previous game with an impressive comeback.
The Belgian side looked set to sail through to the final when they took a two goal lead, but Quinten Maduro and Sven Botman struck back to secure a draw for Gery Vink's men. Converting one more penalty in the resultant shootout, Ajax progressed.
Bayern, meanwhile, took on the J-League selection to contest the other final spot. The teams gave little away in the early stages, but the game opened up enough for substitute Yannick Brugger to knock in the decisive goal in the second half and set up the decider.
Can Messi & Dybala play together?
The semi-finals and final were not the only action on show, however, as all eight teams took part in the final day.
The bottom sides of each group also went head-to-head, with Paris Saint-Germain beating Juventus, while Benfica edged out Arsenal to win 4-3 in the game to decide the fifth and sixth positions.
Despite the occasion, the third-place playoff proved to be a highly-entertaining, as the team from J-League hammered Anderlecht 7-0.