World Cup
Ahmed Hassan: If Egypt place all their hopes on Mohamed Salah, they will not go far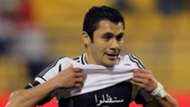 Goal: What are you doing today ? What is your daily life?
Hassan: Right now, I work for the Egyptian channel DMC Channel where I analyze the games of the Egyptian first division. And before, I took care of a team as coach.
Goal: You have been a coach of Petrojet. Do you like the coaching profession and would you like to continue in this way?
Hassan: Yes, I want to continue as a coach. It's my wish. But do it more professionally and in a more appreciable context. It must be more organized than where I was before. There are positions where you're not judged on the experience or skills you have, but more on your address book and the links you have with directors and influencers. Me, it's something that I cannot accept, and I have enough experience to know that this is not how I want to work. If I benefit from a project that is serious and respectful, I will return to the coaching profession. But, otherwise, I still prefer to continue as a consultant.
Goal: You have been African champion four times. What remains of these successes?
Hassan: Yes, of course they are very big and pleasant memories. Because there is nothing more tasty in life than successes with your country. There are triumphs with your club where you celebrate with your supporters but it is not worth the triumphs with your national team. You benefit with a wider audience. It's a different feeling and especially beautiful. To talk about tournaments in more detail, I would say that the tournament of 1998 was my first and it is the one where I made myself known to the Egyptian public. Because I was young and I didn't have many games with the selection yet. I remember having made a very big final, and the performance and the goal I scored helped me a lot to start my career. 2006 was at home and it was very important for us and our supporters. The public helped us in the conquest. In 2008, it was the tournament where I was captain the first time and so I was able to lift the trophy first. It was very important to me. In 2010, we won our last title and became the most successful team in Africa. And personally, I was named best player in 2006 and 2010. So, of course, it's still very nice memories.
Goal: Which of these African Cups was the hardest to conquer?
Hassan: I think the one from 1998. We didn't have a very big team at the time. It was a young selection and no one expected us to achieve such a feat. In 2006, it was not easy either because you certainly know all the pressure that can be involved in competitions at home.
Goal: You won four CAN, but you didn't play in the World Cup. Is it an eternal regret?
Hassan: I think we would have deserved indeed to play a final phase of the World Cup. But in the end, it's football that's like that. We did a lot of good things, but we missed that goal. But, we did everything for. And I think we missed the factor of luck. Everyone agreed that this team deserved to compete in the World Cup at least once. But, we thank God for what we got. What we have achieved on the continental stage will be difficult to repeat, although I hope the greatest success for the current egyptian team.
Goal: What do you think of the current Egyptian selection?
Hassan: It's a very good team, with a lot of quality players. Several players who evolve in Europe too. It lacks perhaps a little experience since the team is quite young and has not yet faced the greatest nations. But he has just reached the World Cup and for that we must salute all his merit. I hope he will have a bright future. This selection went to the World Cup when it was 28 years ago that we didn't do it. I hope they will shine there, despite, I repeat, the lack of experience that it suffers at the highest level.
Goal: In terms of talent, would you agree if you were told that yours was better armed?
Hassan: If we compare the two generations, it's clear that ours was better in terms of talents and we practiced an attractive game. Individually and collectively it was on another level. But at the same time, the current team has achieved what we have not managed to do: play a World Cup, in addition to reaching a CAN final. And we cannot neglect that. And then, well, it would be an injustice if we start comparing the two teams.
Goal: What do you think of Egypt's chances of shining at the World Cup. How far can they go?
Hassan: We have a well-balanced, well-organized selection, but they still lack a lot of things. I really hope she will reach the knockout phase of this World Cup.
Goal: How do you rate your group in the first round?
Hassan: It's a very balanced group. That said, if we had the opportunity to choose our own group, it would have been difficult to get a better group. The team of Uruguay stands out. It's the strongest, I think. And the remaining three teams, I think they will all leave with equal chances. Russia is not really part of the Cadors. The Saudis cannot be said to be favorites. Honestly, we have good chances to get out of this group.
Goal: What do you think of Mohamed Salah? He surprises us every day and you?
Hassan: I think that Mohamed Salah got the upper hand on himself. He has achieved unprecedented feats. And I think he himself did not expect to go that high and get where he is today. He is doing very good things and he has become a worthy ambassador, not only for Egypt but also for the entire Arab world. At the moment, he is one of the best players in the world. He is also coming out of an exceptional season. And I'm sure he will still progress tremendously and continue on the same path.
Goal: You say he got the upper hand on himself. What do you mean?
Hassan: He has overcome himself in the sense that he has achieved an exceptional season, in terms of performance, efficiency, goals scored and the impact he can have on his team. He has evolved everywhere. He has become a completely different player.
Goal: Do you think that he alone can guide Egypt to the second round of the World Cup?
Hassan: Surely all of Egypt is counting on Salah to take us away. And he's the star of the team. But, I have the feeling that if we place all our hopes on him and his exploits, we will not go far. But we must also have other individual and collective solutions. And we have other quality players like Sobhi Ramadan, Trézeguet, Mahmoud Kahraba, Marawan Mohsen. We really have a good group of players. And, we must all get to use them well. In football, it's especially the collective that counts and that allows you to achieve great performances. If we go to Russia with the idea that Salah makes us shine alone, it's going to be very complicated.
Goal: Abroad, the experts start to compare him to Lionel Messi in his way of playing. Is this ridiculous? Or do you really see similarities in style that both players have?
Hassan: No, I think it's a good thing. But well, Messi is Messi. And beyond the qualities he possesses, we must remember that it has been a decade that he maintains at the highest level. With efficiency and effectiveness intact. Whether Salah is compared with him, or with other great players is good, and it can be understood by the season he has done. Nevertheless, Salah has just started, and he should continue on the same path and confirm over time. And, personally, I don't really like comparisons. We should distinguish each and appreciate the performance of each player without having to compare with those of others.
Goal: Do you think that the success of Salah in Europe will give even more confidence to the players of the Egyptian championship. Maybe even Arab players in general.
Hassan: That's true. For any Arab player who aspires to succeed abroad, he has opened a door. His success beyond Egyptian borders, but also those of players like Elneny, Ramadan Sobhy or Hegazy, that can inspire others. And this is proof that European clubs, and especially the English, they follow the Egyptian players.
Goal: A word about the Team of France. What is your opinion on this team?
Hassan: It's a very big team and a very big football nation. They have assets, and a lot of talent. That said, it will have to be demonstrated on the ground. The history doesn't count. But on paper, for sure they are well armed and can go very far in this World Cup.