AFC Champions League
AFC Champions League: Bengaluru FC's Albert Roca - 'We cannot afford to make mistakes against a side like Wehdat'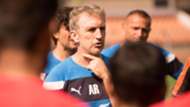 2016 AFC Cup runners-up, Bengaluru FC, take on Jordanian side Al Wehdat in an AFC Champions League Preliminary Stage Two fixture to be played at the King Abdullah International Stadium in Amman, on Tuesday, 31st January 2017.
Speaking to the press ahead of one of the most important fixtures for the club this season, Bengaluru coach Albert Roca opted to focus on the difficult nature of the tie against a strong outfit. "The AFC Champions League is the highest level of competition in the continent, so I don't think I need to spell out how tough a test this will be," he said. 
"We are coming up against a team that is far more experienced than us but we have to be ready for every sort of challenge if we want to consistently compete in Asia," Roca added further. 
No Indian club has managed to progress past this stage but for The Blues to stage a surprise in Jordan, they need to shake off the rusty form that has seen them lose back-to-back I-League games recently. 
But the Spanish gaffer sounded upbeat as he spoke at length about the improvements his team needed to make. "The boys know they cannot afford to make the mistakes that have cost us in the League, against a side like Wehdat and on a stage like this. While I cannot predict Tuesday's outcome, I know that the team will turn up with the kind of attitude I want to see," he expressed. 
AFC Cup preview: Colombo vs Bagan
Furthermore, Al Wehdat have won the Jordan League for the last three seasons and are coming on the back of four straight wins to this tie. Naturally, Roca felt that his team were definite underdogs for this tie but promised that his side will give the Jordanian side a fight. 
"They are the favourites and we are going to have to be very organised if we want to cause them any trouble. There's also much talk about the cold weather conditions but we refuse to make much of it," the 54-year-old commented. 
The Steelmen from India's IT city were also inconvenienced in Amman when they could not train on Sunday because of misplaced baggage during travel. Nevertheless, the former Barcelona assistant coach will be hoping to channel some of the resolve his side showed during their memorable run to the final of the AFC Cup last year.