Super League
Additional import for all Super League teams until 2022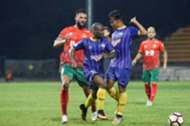 Football Malaysia Limited Liability Partnership (FMLLP) finally confirmed what everyone has already anticipated for months, that from the 2018 season onwards, all Super League teams will be allowed to sign an additional Southeast Asia (ASEAN) player on top of the exisiting 3+1 import ruling.
The move has previously been explained by FMLLP chairman and Football Association of Malaysia (FAM) president, HRH Tunku Ismail Sultan Ibrahim as one that is designed to increase the interest amongst ASEAN countries that would eventually lead to increased revenue commercially.
However the Crown Prince of Johor also stressed that is not compulsory for all 12 teams to secure the fifth import and that any potential signings should not come at a cost disadvantage to respective teams' financial capabilities.
There are conditions imposed on the fifth import as per the following;
ASEAN import need to have acquired at least 30 international caps for their senior national team with no period restriction on when caps are earned
ASEAN import that has less than 30 international caps will be subjected to FMLLP approval
5 imports are all allowed to be fielded during Super League matches
Only 4 imports are allowed to be fielded during Malaysia Cup and FA Cup matches
Teams are allowed to select different mix of 4 imports from one cup match to another
This change is only applicable to the Super League teams whereas the Premier League teams will still be following the previous 3+1 ruling. The conditions set during cup competitions where Super League teams could potentially face Premier League teams are designed to create fairness.
With the Thai Premier League in a level of its own, Malaysian teams could find a tough time trying to attract players from there. The same ASEAN ruling has also been implemented in the Thai League and this sees a direct fight between teams in the two leagues for the best ASEAN players around.