Toyota Football Engine
AFC Champions League 2018: Toyota Player of the Week - Ulsan Hyundai's Mislav Orsic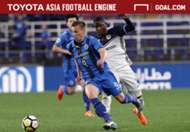 Ulsan Hyundai romped to a 6-2 win over Melbourne Victory this week in their AFC Champions League 2018 encounter. 
More importantly, the South Korean side booked their spot in the knockout stages of the tournament, thanks to the result. The team was largely Mislav Orisc. The 25-year-old was in fine form for Ulsan and had a memorable outing.
Ulsan were two goals up inside 20 minutes before the Croatian forward netted his first on 38 minutes and, with 15 minutes to play, Orsic added the final goal – his fourth of the campaign.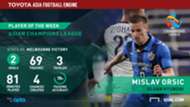 He created four chances for his teammates apart from scoring those goals and contributed with three tackles. 
He was simply sensational on the night for Ulsan Hyundai and is aptly named this week's Toyota Asian Player of the Week!