MLS
Accam highlights the importance of African players in MLS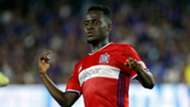 Chicago Fire attacker David Accam believes African players have been influential in taking Major League Soccer to the next level.
After decades of being regarded as 'cheap' and 'non-competitive', the MLS now rates among the most competitive and popular leagues in the world, having received a major facelift in recent times.
Germany star and 2014 World Cup winner Bastian Schweinsteiger, former Spain striker David Villa and ex-Italy and Juventus playmaker Andrea Pirlo are among the global household names presently plying their trade in the championship.
"When I was growing up, we didn't know much about MLS," Accam said, as reported by Ghana Soccer Net.
"But we have had African players that have set an example, like Obafemi Martins [of Nigeria], Dominic Oduro [of Ghana], Kei Kamara [of Sierra Leone]. 
"Now, you get an audience in Africa watching, following the league. 
"This also encourages other young African players that are in Europe or in Africa to come to the league because of what the African players here are doing.
"A lot of African players are doing really well and I think it's not just about doing well for themselves.
"They know a lot of people look up to them and they have to set good examples. 
"You have to do well to give back to your community and create more chances for other African players."
Accam is currently among the highly-rated African players in MLS.
Since joining Fire in December 2014, the Ghanaian has won the club's Top Scorer and Player of the Season accolades back-to-back.
His form has not fallen in any way this season as he currently stands as the Men in Red's top scorer with 12 goals in 19 matches thus far.