Manchester City
'A contender for goal of the week, if not goal of the year' – Hodgson reacts to Townsend's Man City stunner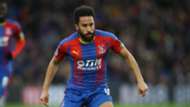 Andros Townsend's 30-yard screamer for Crystal Palace against Manchester City is a contender for goal of the season, according to Roy Hodgson.
The Crystal Palace boss had just watched his side come from behind to win 3-2 and shock the champions by inflicting their first home defeat in the Premier League since April.
Townsend struck a superb dipping volley 10 minutes before half time to give the visitors a surprise lead at the Etihad Stadium, just two minutes after Jeffrey Schlupp had canceled out Ilkay Gundogan's early goal.
And Luka Milivojevic added a third from the penalty spot shortly after the break to give Palace what turned out to be an unassailable lead, halved late on by Kevin De Bruyne as City fought in vain to rescue their unbeaten home record.
And Hodgson was quick to play up the work put in by his team as they racked up one of the shock results of the Premier League season.
"You don't produce that sort of performance by waving a magic wand or having a five-minute team talk," the Palace boss told the BBC. "There's a lot of work that goes into that structure and we were excellent. We are playing against a team with enormous skill levels and their focus, their ability to sustain attacks, is an example to us all.
"I was really pleased with the way the lads worked hard for us. All the credit needs to go to the players. We scored three good goals."
Townsend's goal was his third of the season for Palace, and his fizzing first-time thunderbolt is likely to live long in the memory for those who had made the trip north from South London.
"Andros Townsend's goal was magnificent, a wonderful strike on goal," said Hodgson. "He had a good performance, he is very happy with himself and as it came to him I thought 'that's not a bad body shape.'
"I wouldn't say I thought he was going to score but he gave himself a chance. It will be a contender for goal of the week, if not goal of the year."
The win moves Palace up to 14th and leaves a healthy six-point gap to the bottom three at Christmas as the team continue their recovery from a sluggish start to the season.
"It was Bill Shankly who said it's a marathon, not a sprint. If the league was the Tour de France we have won a stage today. But we have a long way to go."