A. Sánchez
'A £500k-a-week quarter-back?!' - Ince blasts Mourinho's use of Alexis Sanchez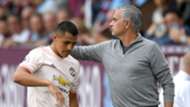 Alexis Sanchez has been ineffective at Manchester United because Jose Mourinho is playing him out of position, according to former United midfielder Paul Ince.
The Red Devils dropped another two vital points at Old Trafford on Saturday after being held to a disappointing 0-0 draw by Crystal Palace.
Mourinho's men are now six points behind fourth-placed Chelsea in the Premier League table and a whopping 15 behind leaders Manchester City after just 13 matches of the 2018-19 campaign.
A lack of clear-cut chances and urgency in the final third were the main issues against Palace, continuing a worrying trend for United, with Sanchez only being granted a 20-minute cameo appearance.
Ince, who played for the club between 1989 and 1995, believes that Mourinho is failing to play to the 29-year-old winger's strengths and he is becoming increasingly bemused by Marouane Fellaini's prominent role in the team.
"The fans booed at the end of the game and that is unlike Manchester United," Ince said when speaking as pundit on Match of the Day 2.
"We're talking about United, no disrespect to Palace, but bringing on Fellaini before Sanchez, what is the plan?
"When United can't score, bring Fellaini on, go long, Palace are set up for that. They are relying on luck, knockdowns.
"Paying Sanchez half a million pounds, and not to be a quarterback. Playing long ball.
"We don't want him like that, we want him in the 18-yard area. Fans have been patient but I don't see cohesion or how we are trying to play."
Next up for United is another home clash against Young Boys in the Champions League on Tuesday, before a crucial trip to Southampton in the Premier League on Saturday.
Mourinho is expected to ring the changes once again and Ince went on to suggest that the Portuguese boss is still unsure on his best starting line-up.
"He changes it because he is unsure what his best XI is. He has changed it time and time again," he added.
"After three years, and the money he has spent, he still doesn't know. As a manager, to get cohesion and consistency, you have to say this is the XI I trust, barring injuries and suspensions.
"If they start doing that, they might start performing better."