Premier League
10 Bold Predictions for Africans in the Premier League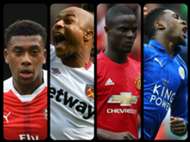 ---

COMMENT    By Solace Chukwu     

Follow on Twitter
---
The frenzy of the 2017/2018 Premier League season is upon us, after three months of waiting. As a subplot, the African contingent in England will be hoping to grab the headlines this term. Here are some bold predictions for African players in the upcoming Premier League season.
Iheanacho to hit double figures for goals and assists this season
The 21-year-old finally found a resolution to his stalling career, sealing a move to Leicester City for 25 million pounds: the highest fee ever paid for a Nigerian footballer. There will now be a lot of pressure on him to repay the faith of the transfer heads at the King Power, and early signs suggest they are on to a winner.
He may have had to come off soon after taking the field in the friendly victory over Borussia Monchengladbach, but he made his (brief) presence felt, setting up Jamie Vardy's winner. While the selflessness was encouraging, the darting run in behind showed Iheanacho has lost none of his edge, and with a run of games, this could be the season he betters his tally of eight goals and two assists in 2015/2016.
 Andre Ayew first to face managerial sack
Ayew's future has been the subject of some speculation this summer, but it now looks like he is set to stay in London. What is rather less clear, though, is the status of manager Slaven Bilic.
The Croatian's job security is precarious, and it looked, at various points last season, like he was on his last legs. This term, he will be expected to hit the ground running right away, and it is not at all certain that he can. West Ham's recruitment has been a mixed bag, from signing a proven goalscoring gem in Javier Hernandez to acquiring the infuriating Marko Arnautovic at great expense.
It would not be a surprise to see Bilic bite the dust first in the managerial sack race.
Mane and Salah to power Liverpool title challenge
Simply put, it is impossible not to get excited at the prospect of these two running at Premier League defences. While it remains to be seen how they line up (both Mane and Salah prefer the right flank, and Philippe Coutinho starts on the other), if Jurgen Klopp can get both into the side and performing optimally, goals will result.
Liverpool finished third last season, but if to stand still is to go backwards, then their activity in the transfer market ought to see them knock off a languid Tottenham side and mount an even stronger title assault. Salah, with his pace and finishing ability, will be an essential part of that progression.
Christian Atsu's breakout year
Along with Tammy Abraham and Dominic Solanke, Christian Atsu was another to escape the Chelsea loan circuit, and looks to have finally found a home at Newcastle.
His loan spell at St James's Park last season was a definite success, and with the Magpies now back in the Premier League, he is set to push on. There has always been a sense that, with stability, there is a new level of potential to unlock with Atsu. He will finally get the chance, and having been in sparkling form in preseason, it would not be a stretch to see him finally come into his own and become the unstoppable force we have only briefly glimpsed so far.
Eric Bailly to struggle with discipline
The Ivorian defender was one of the unequivocal successes of Jose Mourinho's first season at Manchester United, and led the Red Devils in interceptions last term. Impressively, he only earned four bookings in over 2000 minutes of Premier League football.
It is remarkable given his style, which is quite physical, and it may be that, with an increase in workload, he will become more and more ragged in his decision-making. There is plenty of pace to trouble defenders in the Premier League, and Bailly could well struggle in his second season at Old Trafford.
Sharpshooter Iwobi
If there is one criticism of Alex Iwobi, twinkle-toed maverick that he is, it is that he does not hurt the opposition often enough. He only scored three times last season for Arsenal, and assisted five times: it is clearly an area of weakness. His shooting is often derided as weak.
Arsene Wenger had previously been vocal of his desire to see playmaker Mesut Ozil add more goals to his game, and the German obliged somewhat in 2016/2017. It would not be a surprise to see Iwobi follow a similar evolutionary path, and indeed judging by the viciousness of his strike in the Emirates Cup rout of Benfica, he may well be ready for it.
Victor Moses to be exposed defensively
Moses was one of the revelations of the season for Chelsea last term, bedding into an unfamiliar specialist role at wing-back with consummate ease. It marked a rebirth of sorts for the Nigeria international at Stamford Bridge; whereas he has been on the books since 2012, last season under Antonio Conte was his first of such central relevance in blue.
There were, though, warning signs. Chelsea have elected not to strengthen in the position, an admirable statement of trust in Moses, but they will compete in the Champions League this term—surely, not having cover in such a role would be foolhardy. In any case, the ease with which he was exploited by London neighbours Tottenham and Arsenal in the second half of the season may come to be viewed as a template, a potential chink in the Blues' armour.
Zaha at odds with Frank de Boer
Quite what the rationale is behind Crystal Palace's decision to hire former Ajax boss De Boer is hard to divine. His patient possession style was, after a while, considered dull even in Amsterdam, and he was hardly a roaring success in a brief spell in Italy at Inter.
He almost certainly has learnt a thing or two about adaptation in the intervening period, but quite how he will get the best out of the Eagles' pacy attackers remains to be seen. Zaha, in particular, relishes the chance to play on the break, and came into his own in the second half of the season as Palace stunned the likes of Arsenal at home and Liverpool away. It is hard not to imagine the Ivoirian chafing at slow build-up from the back denying him wide-open spaces behind opposing defences in which to cavort.
Ndidi to earn big-money move
Barely six months in, it is already abundantly clear that Wilfred Ndidi was born to play in the Premier League. His long stride sees him cover ever blade of grass, he can play the ball, and he can hit belters with either foot.
The Foxes seem to have rediscovered stability under Craig Shakespeare, and go into the new season brimming with optimism and with no pressure on them. Ndidi will no doubt come on in leaps and bounds (if last term is anything to go by), and by the time the season is done, he will take the next step and move up the ladder. He simply is too good to remain at Leicester for very long, and he keeps getting better and better.
Hegazy signing of the season
No team scored more from corners last season than West Brom, so of course they acquired a 6 ft 5in centre-back to chuck into the mixer.
All jokes aside, Egypt international Hegazy is a perfect fit for the Baggies. Physically dominant, aggressive, and with a fierce determination to never get beaten in the air; Tony Pulis can be proud of his scouting team. He has joined on the cheap, and relatively unknown on English soil, but by the time the season is out, there will be widespread acclaim. His style is so innately British, he is bound to be a hit at the Hawthorns.