Young Africans
Yanga turn attention to the CAF Confederation Cup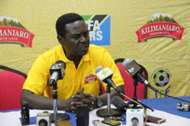 Yanga have claimed that they are concentrating on the CAF tournament rather than the Ligi Kuu because they have nothing to lose in the local competition.
The Jangwani club were defeated 2-0 by Tanzania Prison on Thursday, the defeat helped Simba to clinch the title with two games to spare.
Speaking to Goal, Yanga's General Secretary Boniface Mkwasa said that they will use more energy in the CAF tournament to ensure they secure a place in the quarter-finals.
"We want to move from the group stage to the quarter-finals,so we will turn our attentions to the CAF tournament rather than league competition, said Mkwasa.
Yanga are expected to play host to Rwanda's Rayon Sports on May 16 in their second match following their heavy loss of 4-0 in their opening game against USM Alger.