World Cup
Socceroos can pip Denmark in World Cup group, says Johan Absalonsen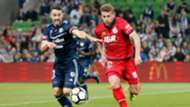 Departed Adelaide United winger Johan Absalonsen is hoping his native Denmark can scrape through the Socceroos World Cup group but admits Australia could well sneak in ahead of them.  
Prior to his one season in the A-League with the Reds, Absalonsen spent his entire club career in Denmark and played four times for his nation across 2009 and 2010.
Ranked 12th in the world, Denmark are the third best ranked nation in a tough Group C at Russia.
With France strong favourites to top the group, Denmark, Peru and Australia are all set to face off for second.
Though hoping his nation gets the job done, Absalonsen conceded the battle to reach the knockout stage will be tight and Australia are capable of squeezing through.
"I think it will be so even," Absalonsen told Goal last month before departing Australia to return home.  
"France will take the first position for sure, the three other teams it will be the form on the day that will decide it.
"Maybe Denmark is slightly better on paper than Peru and Australia, but in my opinion it will be so even getting that second spot in the group.
"Of course, I cross my fingers for the red and white but I know it can even be Australia or Peru that can take it."
Australia begin their World Cup campaign against France on June 16, with a clash against Denmark in Samara to follow on June 21.